This is the story of "Old Number 11"
A 1968 Ford Fairlane
Any commercial use of stories, photo's or art without written authorization from Robert Webb is prohibited. � Webb 2003
Updated: Jan 30, 2002
---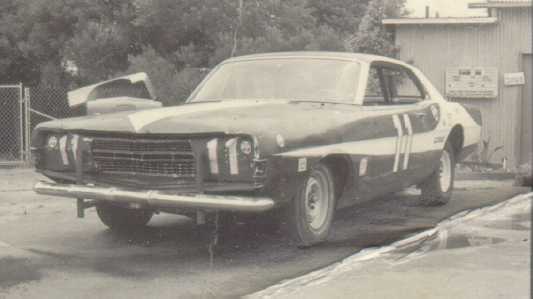 Raw, in your face Iron. A lead sled. A cruise missile!
"Old Number 11" started life as a 1968 Ford Fairlane. A nice lady owned the dark green 2 door. It lived its life in San Fernando Valley California. One day the lady sold or traded the car in at a used car dealership. It was then sold to a Stunt Man. The nice stunt man used the car in 3 films. finally ending up in the, now cult classic, film "Eat my Dust!" starring Ron Howard."
"Eat My Dust!" was one of Ron Howard's first movies way back in 1975. He was probably 19 years old when he made the film. Roger Corman, the producer of "Eat my Dust!", made many low budget action films. At the time this movie was made, Ron Howard was already a well known TV Star playing the part of "Ritchie Cunningham" in the much loved Television Show "Happy day's". Most people remember him fondly as the Sheriff's small son in the earlier "Andy Griffith" show. He played the part of "Opey". However, the nearly adult, Ron really wanted to be behind the camera as a Movie Director.
Rance Howard, Ron's Dad, worked as a stunt man and actor for Roger. So, it was natural that Ron would first contact Roger and ask for this favor.
The deal was that Ron would star in this film (perhaps one prior to this as well). After that, Roger would let Ron Direct his first film. It all worked out and he finally Directed and Starred in Roger's low-budget gem, 1977's, "Grand Theft Auto".
www.videoflicks.com "Ron Howard makes his directorial debut in this car crash collage. Included are many exciting chase scenes, and an unbelievable 43 car crash finale."
But before "Grand Theft Auto" Ron had a duty to perform. Ron Howard played "Hoover Niebold", the lead, Rance Howard played "Deputy Clark", and his younger brother Clint Howard of "Gentle Ben" Television fame and the Movie "Apollo 13" played one of the kid's parts, "George Poole Jr.", in "Eat my Dust!".
www.videoflicks.com "Two young men (Wrong! Boy & Girl [RW]) who have an unbridled passion for race car driving, steal an automobile, and wreak havoc in a small community, included in the action is one of the wildest car chases ever filmed."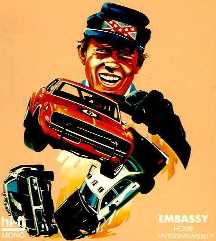 Here is the cover of a VHS Video Box for the movie.
I will add copyright credits when I find out who owns these images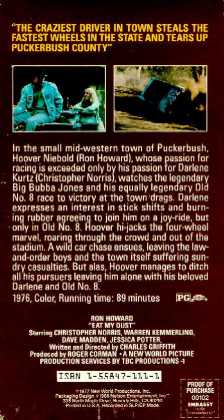 Quite an Epic! :-)
I saw the movie at the San Gabriel Drive-in Theatre when I was 19. The reasons I went to see it were, I loved car movies and I knew Ron Howard a wee bit. I had spent part of a single day with him when I was just a kid. My cousin by marriage, Mitch Vogel, played the part of "Jamie" on the long running Cowboy Television show "Bonanza". Mitch was the red headed kid the Cartwright's adopted near the end of the series.
Anyway, I visited the set a couple of times and on one of those trips young Ron Howard was part of that weeks show. It was filmed in a box canyon in the Hollywood Hills and as kids, we ran all around and up the soft dirt walls of the canyon stirring up dust and laughing. Of course I only knew him as the Sheriffs Son "Opey" from the "Andy Griffith" television show at the time. It was a day I will always remember. So here I was, watching Ron as the Son of another screen "Sheriff" in his first movie. I was somewhat motivated to see it.
The main car in the film was an Orange "Chevy Camaro" Stock Car, Old Number 8, or "Mabel" as Her owner "Big Bubba Jones", actor Dave Madden, affectionately called her. Dave Madden played this part to the hilt. His performance alone made this movie for me. His lines were always colorful and on point. Here are some of those lines:
Bubba Jones, with a slight southern accent, was fond of saying "musical" phrases. About Mabel he said, "Double-dee God Damn right she's perfect. She cost me my lol'ipa late lamented life's Savings." and about Her engine he said, "Best Damn engine this side of some Hubble Bubble Submarine but only if you use it for just one race", and "Hotter than the heat in a whore house", Hoover Niebold liked to read Stock car and Hot Rod magazines, Big Bubba said, "Hey boy, those magazines are all full of Bull, Double-dee God Damn-lone-ee", and, "You let Big Bubba give you a bit of advice, the best way to see a race is from right up there in them blankity blank bleachers."
Darlene Kurtz, actress Christopher Norris, is the "Sexuous Number in yellow Hot Pants" or "Short Shorts" and the object of Hoover Niebold's infatuation. He steals "Mabel" because Darlene wants to go for a ride in her. There were at least 4 "Mabel's" made for the film. This was done so that if the main car had mechanical problems or was damaged during a stunt, a backup vehicle was ready. The rest of the cars were one of a kind.
All of the Stock Cars in the film, including "Old number 11" were driven down an incredibly steep hill. By luck, or design, only "Mabel" and #11 were saved from destruction in this scene. Number 11 was used in many of the chase sequences and interior shots as well. Look for Her "T" handle stick shift and round instrumentation wells in the dash panel.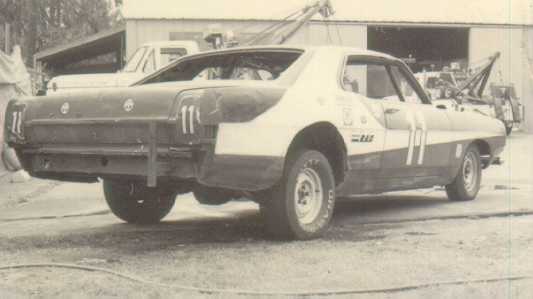 Anti-social beast.
For rainy day fun, hunt down and rent this low-budget, teen-thrill, "Eat My Dust" Chase Movie and look for her.
Late on a cold evening in 1975, After seeing "Eat my Dust!" at the Drive-In Theatre, I passed by "Ken's Towing" in Rosemead California. There She was, parked out front.
I made a sudden stop. My Girl friend was cut off mid-sentence and angered by the jolt. I jumped out of the car and couldn't take my eyes off of it. I remember thinking, "Yes, this is one of the cars in the film", "And yes, it was for sale! Wow! A real movie car for sale!"
I called Ron Jolly, a buddy of mine, the next day and I tried to talk him in to going halves with me on the car. Well, he was not a car nut like me, but I convinced him to at least look at the car and think about buying it.
My sales pitch was that "we could drive it out in the desert and wreck it!"
Well, it turns out that Ken wanted an outrageous $500 for the car! I could buy a perfect 1966 Mustang for $1,000 and it would be straight and street legal!
This thing was legal only for scrap.
Ron, being smarter than I, laughed and said "no way!"
I bought the car.
I could not afford to pay for it all at once, so I made time payments. $50. a month as I recall. Ken secretly and Ron outwardly thought I was nuts.
For the first time in my life I did not care what other people thought.
I really loved that hunk of pig iron.
Yes, its a piece of crap. But its MY piece of crap!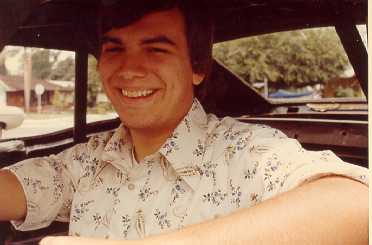 Happy 19 year old Race Car owner. Don't laugh, Its paid for!
These photos were taken of me and the car the day Ken towed it to my parents home. I had no idea how angry my father would be when he saw it. You see, I hadn't told him that I had bought it. My mother found out near the delivery date but she reluctantly agreed to keep it quiet until it was actually delivered.
My Father still winces when it is brought up.
Ahhhh, To be 19 and stupid again! Thank God we are only 19 once.
Out of the way!
I had no clue as to what I was going to do with it.
It was not street legal. There was almost no chance of ever making it street legal. It's doors were welded shut. No side or rear glass. A single drivers seat sat on a bare metal floor. A crude tubular "6 point" roll cage pushed the sheet metal on the roof up. The only wiring in the car was for the ignition. No running lights at all.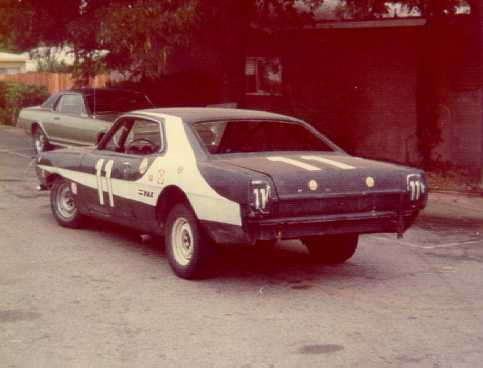 This shot is of #11 the day it was finally paid off and delivered to my parents house. You can see my pretty green and black Cougar in the background.
The engine was a 302 ci Windsor V8 with old 289 heads. The only decent thing the car had going for it was the "top loader" 4 speed manual transmission. The 8 inch rear end had it's spider gears welded to make a kind of poor mans locker rear end. There was no Exhaust system to speak of, just 2 open pipes blasting noise and fumes from underneath.
The car sat in the garage while my father cooled off. I never wanted to anger him. I just knew he would disapprove so I felt that it was easier to ask for forgiveness than permission. Eventually my uncle, Jim Travis, said he had a solution. Jim is known in the Bonneville Salt Flat crowd for his 200 MPH chopped and blown '32 Ford Coupe racer. He is also the guy that rebuilt Mickey Thompson's 4 engine dragster that was featured in the new Los Angeles Peterson Hot Rod Museum. A buddy of his was looking for a car to run in the "Street Stock" category at the 605 speedway. The 605 Speedway was a local "Oval Track" for Stock Cars. A real dump.
They would run some nice Midget and Sprint car races around the 1/2 mile Oval. The serious Stock Cars would also run around the big "Bull Ring". But the Junkers, like mine, were limited to the 1/4 mile short track. I guess it kept the Death and Dismemberment statistics down. If the crappy cars ran on the outside "Big Oval" they would gain too much speed and self destruct taking the drivers and spectators with them. That would be bad for business.
It also happens to be where "Eat my Dust!" was filmed. This might have been the reason for my initial excitement about seeing the "Movie" car. I had been to many races at 605 and seeing it on the big Drive-In screen made the car seem like much more than it truly was. After all I was only a 19 year old punk.
605 has since been bulldozed under and a Home Savings & Loan Headquarters now sits on top.
Well, I agreed to the plan, and for $1 I sold the car to my uncles friend on the condition that I get to drive the car in 3 races that year. It was modified a bit to run in Street Stock. The Weight Jackers in the front shock absorber towers were removed and "stock shock towers" were put in. The rear leaf springs were dearched, flattening and lowering the cars stance. A HUGE "Granada" type 5 MPH bumper was welded on the rear to protect it from behind. The stock type wheels were replaced with heavy steel units that could take the abuse of "Rubbing" during a race.
The first night of racing the car was dead last and banged up.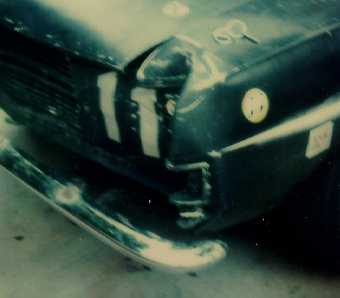 This is just one of many bad dents from the race. Notice it was #111 for the "real" race.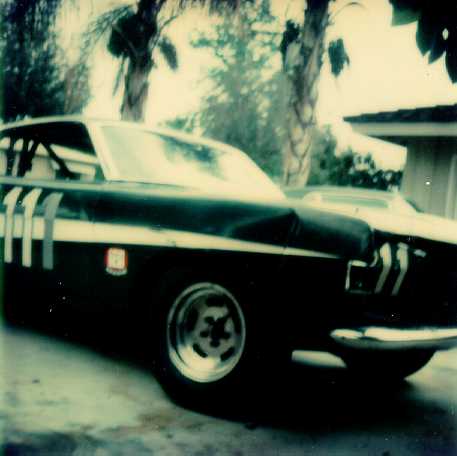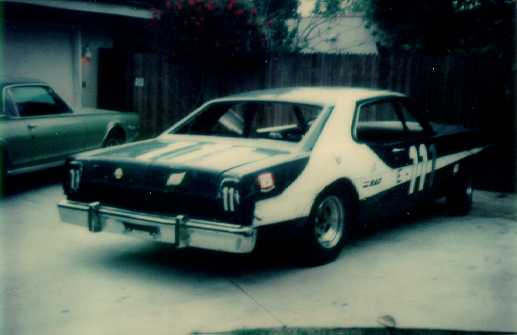 Here is the Cougar and #11 or #111 a little later on. Check out the huge bumper! That was added to keep others from tearing up the rear in a race. Only the "winning" race car did that kind of threatening.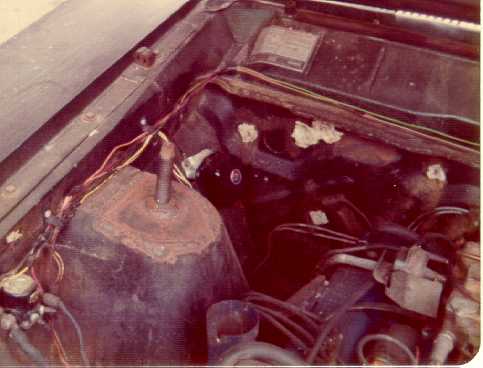 This is a shot under the hood of #11. You can plainly see the "Weight Jack" Screw in the shock tower. This was added by the Stunt Guy's in the movie. A flat, round plate was welded to the bottom of the "Screw". The flat plate sat on top of the suspension's coil spring and the shock was relocated lower and at a radical angle to suspension travel. When you turned the screw it raised one side of the car up or down. For street stock this is illegal and had to be removed.
Sadly, a week later my uncles buddy was killed in a car accident while driving home one night. That sudden and tragic event ended my career as a race driver before it started.
His Widow asked that I take the car back. I did.
There it sat in my parents garage for quite a long while. What to do? Around this time, I finally decided I really wanted to go to College. I was serious. Being a car nut, I wanted to be an Automobile Designer. If I went to school full time I could no longer afford my new 1976 Ford Capri at $150 a month. So.... a plan was worked out and executed!
The Capri was sold and I started to work on #11 at a feverish pace. I was given access to my Mom's '67 Mustang and Dad's Toyota SR5 pickup truck to tool around in and hunt for parts.
I made it street legal by buying parts off of an old 1969 Ford Torino. #11 is a 1968 Ford Fairlane, a close twin to the "Donor" Torino. I got the cool '69 grill and headlights, doors, glass, wiper motor, linkage, and tail lights. Plus many assorted interior parts. I also rebuilt the engine.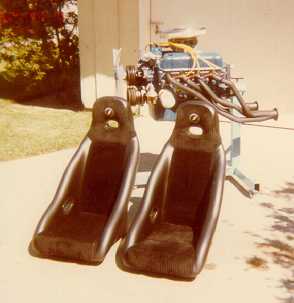 Courbo GT racing seats and the rebuilt Ford 302 ci Windsor V8 (well over 300 HP).
Begin Engine Stuff: If you are not a gear head, you can skip over the next few paragraphs. ;-)
On top of the aluminum Edelbrock "X" intake manifold sits a Holley 780 Double Pumper 4 barrel Carb. A Holley Electric Fuel Pump tied to Oil Pressure, for safety, feeds this voracious Carburetor. The mechanical fuel pump got too hot next to the headman headers causing fuel Vapor Lock, so a Holley Electric Pump was installed near the trunk, remaining cool and pushing gas forward. This solved the Fuel Starvation problem.
It is a balanced and Blueprinted 302 with, 1979 Cougar, 351 Windsor Heads. Special Ford Head bolts, designed for this swap, hold them to the block. These heads have the largest valves ever in a Windsor production block. 351 Windsor intake manifold gaskets are used to seal the intake manifold to the head, but the small cork gaskets for 302 heads are used to bridge the gap from head to head on the block finishing the seal. The Block was align bored, 30 over.
Using these heads with the round valve guide holes required that I add Chevy screw in rocker studs and "valve rod" guide plates with matching chrome molly push rods.
Snug as a bug in a rug. In this shot you can see the normal shock absorber towers. No more weight jack's!
A famous engine builder, Blair's Speed Shop, in Pasadena did all of the head work. The heads were not ported and runners matched (I was running out of money). New Ford "Heavy duty" rocker arms along with solid tappet's curb float. The "Ford Blue" valve covers in an earlier photo were replaced with taller "Moroso", Gold anodized, ones for better clearance. The new rocker arms and studs were much taller than the stock ones.
The stock 302 Piston Connecting Rods were shot peened, magna fluxed, polished and balanced. They were works of art when completed. The 351 Windsor Heads lowered the compression ratio dramatically, so TRW aluminum pistons were used to bring the compression ratio up to 9.5 to 1. A Boss 302 Oil pump, pan, shaft and windage tray were added to keep it all lubricated properly.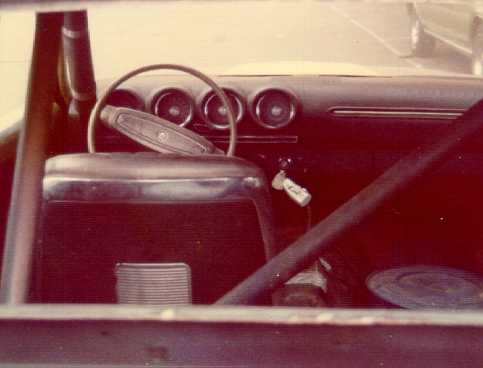 This is the way the dash looked during filming of the movie. Most of the car "interior" shots during the chase scenes were filmed inside this car. You can plainly see the Stock green padded dash with a cool "Hurst" "T" handle on the shifter. One quick shot shows the Actor Dave Madden or "Big Bubba Jones" seated in the passenger area of the car.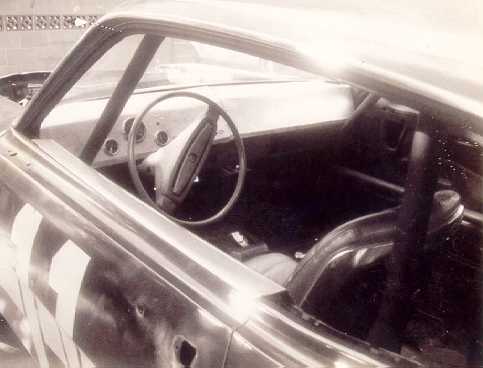 This is the way the dash looked after I had worked on it a while. It was campaigned as a street stock looking like this. later on there was an ugly 3rd version. I like this one the best. I might want it painted flat black now though.
A, Real, "Shelby 289" Solid Lifter Cam was used. It was pretty radical and the solid tappets helped curb float. I did not have heavy valve springs installed. Once again, I had run out of money. The cam is rated at 460 lift, 310 duration. Hydraulic lifters were known to be much better and easier to maintain, but I missed out on the '60s and wanted to try my hand at valve lash. It is so sweet when they are set up properly!
A "Lakewood" Scatter Shield and Drive shaft loop keeps the "Mcleod" Racing clutch and bits contained. A heavy 11" "Road Race" steel flywheel keeps the rev's up in corners. And finally everything is kept cool with a triple core "Desert Cooler" radiator and aluminum flex fan.
End of Engine Stuff: Non-gear heads may now continue to read. ;-)
Remember, "paint don't make it go", and "if it don't go, Chrome it!" (You will kindly note the lack of extensive Chrome, or paint for that matter).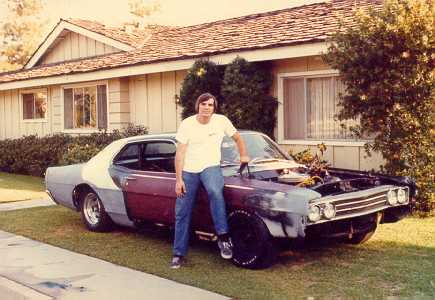 Kick Ass Car! Lowered 2 inches, from the stock settings, and well over 300 HP at the rear wheels. (Dyno tested at Blair's Speed shop in Pasadena). I am age 24 in this shot. I drove the car daily to and from Art Center College of Design.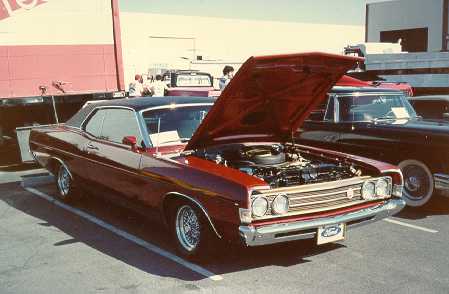 No, this is NOT my car. This is the way I see it in my mind, only White with Twin Blue "Shelby Stripes" front to rear.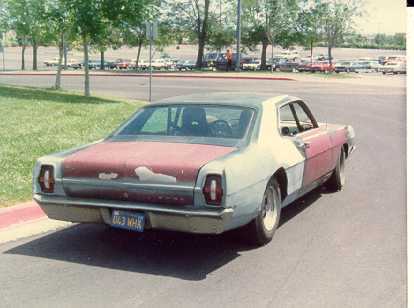 I spent money on things like good metallic Brakes, Helmet and Body Harness. Who needs Paint?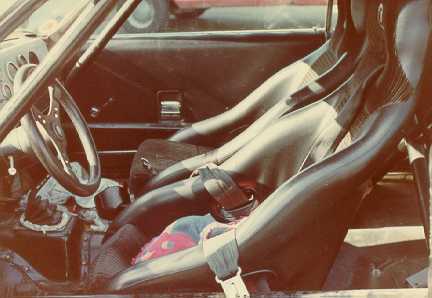 Its all business in there. Notice the Garter around the shifter boot, cool! Up front Gas money, nobody rides for free! 16 mpg.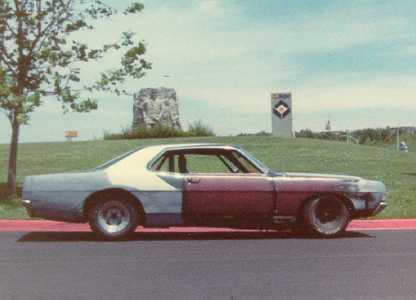 Old number 11 at the Street Machine Nationals West NorCal (1981). Notice how low it sits. Look close and you can see a 1 inch clearance at the Header Flange under the car. But the suspension is so stiff it almost never scrapes!
The car was smogged and licensed. But first I had to find all of the previous owners and get their signatures. You see, I did not get the pink slip when I bought it. After 3 months of tracking down the previous owners I finally had all of the required signatures.
A side benefit to all of this is that I got to meet the Stunt man, Ronald Clark Ross, that set the car up for the movie with help from "Street Customs Ltd.". I saw a couple of the Orange Camaros from "Eat my Dust" sitting in his back yard. He signed the papers on the hood of a Rocket Car designed to make an enormous jump across a canyon. I think it was used in the movie "Hooper" starring Burt Reynolds.
Finally, the day I attended Art Center College of Design as a Transportation Design Major, I did so in the seat of old number 11!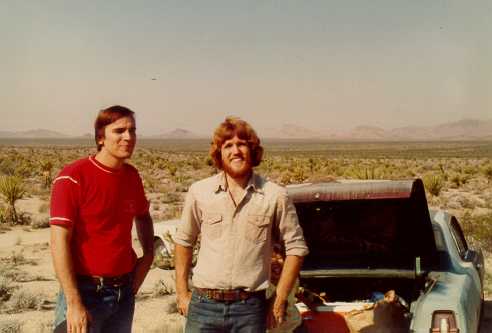 Desert Camping with pals and cross country blasts have put 40,000 miles on her. I am the guy wearing the red shirt. I was about 21 years old here.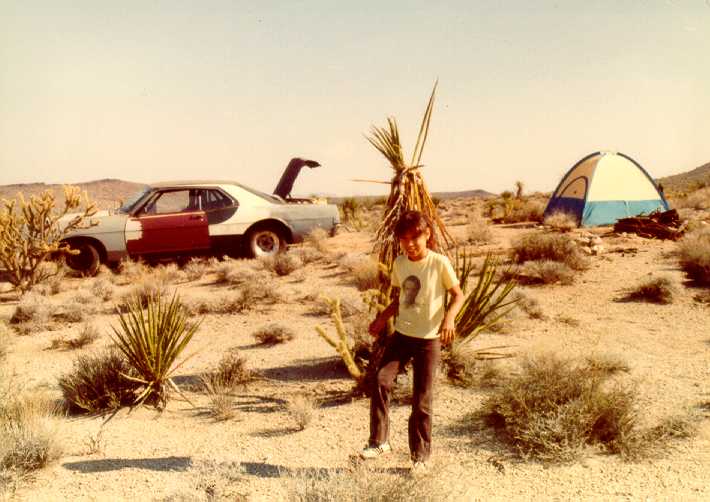 I made 2 suspension settings for the car. One very low and one very high using a set of truck springs in front and the air shocks pumped up in the rear. This is for off road jaunts. If you don't worry about scratching the paint job, and underbelly, you don't mind driving in rough terrain and off road.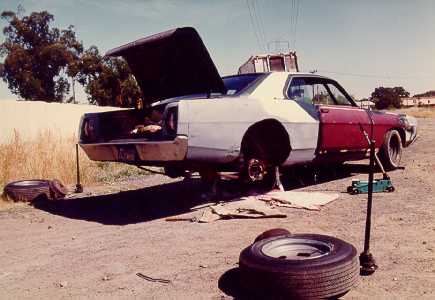 1st blown rear-end. The 2nd time was in sub-zero weather in Paw Paw Michigan.
I still have the car. However, I stopped using it when I got married 12 years ago (1986). It has been a fun car and I don't think I will ever sell it. It is now being lovingly restored in my garage. I hope to paint it White with wide Twin Blue "Shelby Stripes" front to rear. Yes, it will have the number 11 painted on the door!
It is being disassembled right now. It will then be taken to a body shop to have the frame squared and all of the basic factory "unibody" welds reinforced. The rear suspension will receive a Ford 9 inch Posi, traction bar and panhard rod. The Roll Cage will be replaced with an up to date, safer version. A full "NASCAR" style cage will be affordable and safe, but I will leave a portion of the door area open so that the stock doors can be used.
The undercoating and paint will be removed. Body work will be done to smooth out the wheel wells and fix the dents. It will then be sprayed with gray primer. The Interior and engine bay will probably be painted gloss white. Heavy Duty "Racing" front Disc Brakes will be added, and the front suspension will get a thick anti-sway bar. The engine and Top Loader 4 speed transmission will be torn down and inspected. A few changes will be made to beef them up. A "Main Cap" Web, "head & intake" porting & strong Valve Springs will be added.
I have added her in my latest screenplay 'DELTA BLACK'. She plays the part of the main characters wheels. Of course in the movie she will be refrigerator white with twin 'Shelby' Ford Blue racing stripes nose to tail.
It may never be a beauty. But it will blow off any rice burners or Porches that try to pass me on the way to Las Vegas.
---