Art Odds and Ends...

Any commercial use of stories, photo's or art without written authorization from Robert Webb is prohibited. © Webb 2003
Updated: Feb 9, 2002
---
Offroad 4 by 4.
This vehicle was based on the old Volkswagen powered Brubaker Van. The lines have been cleaned up and funky wings added. The classic "Hockey Stick" graphics fit well on the car.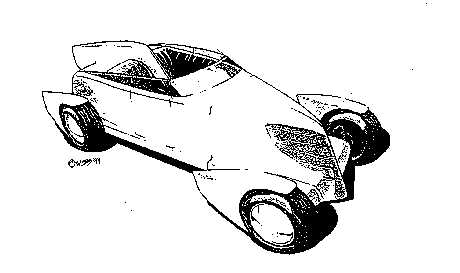 Custom Roadster.
Mild streamlining and show biz glitz made this thing sparkle.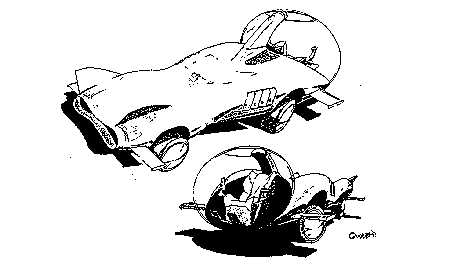 Submarine Car.
This vehicle would have been, in actuality, several vehicles. The main finished machine would have been for road use. A second car would have been for transitions from land to water and vice versa. A third full size vehicle would have been for boating around and submerging. Models would have been used in the under water scenes and possibly the transition vehicle. A great deal of this could be done with "Computer Graphics" now.
---
---
Cobraesque...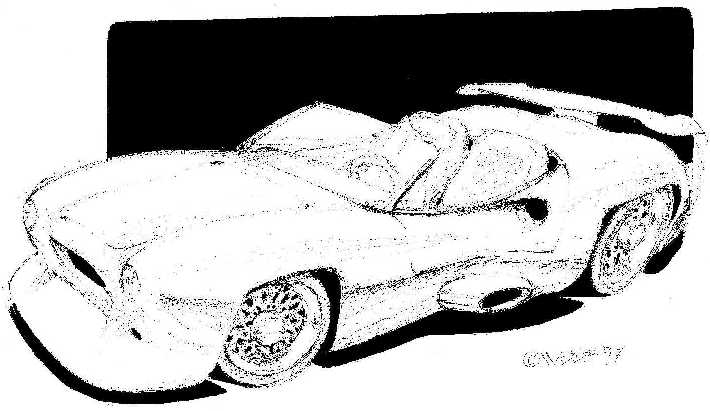 This series of, free hand, sketches were done with a black ball point pen, and a Black Sharpie Marker. I was standing up, outside in the warm sunshine with a cool ocean breeze blowing around me, while I sketched. This was at the 1997 Monterey Historic Automobile Races in California at the Laguna Seca Race track. I was listening to the music of "Shelby" V8 AC Cobra's, Mustangs and Daytona's as they raced around the track and idled in the pits. I wish I were there right now!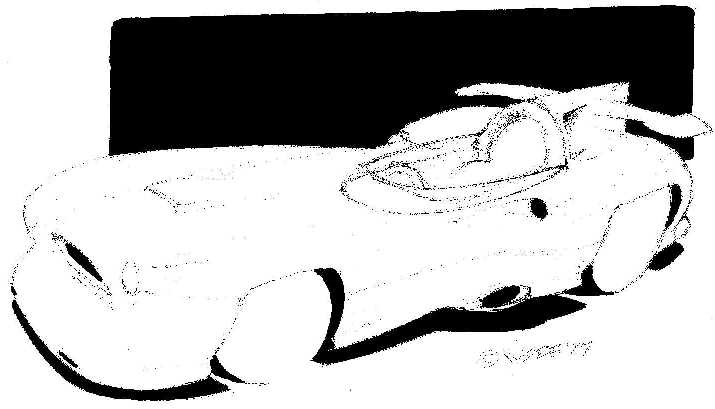 It may be wrong to Shelby purists to play with the basic AC shape. However, I just cant help myself! ;-) This thing is a single seater inspired by the Jaguar D type. I like the asymetrical wing in back.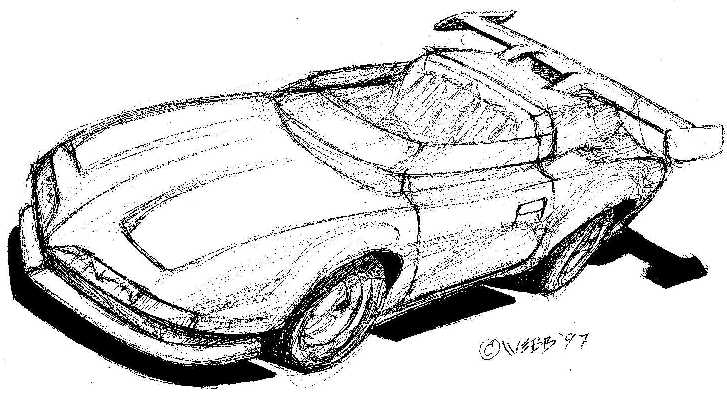 Only the Cobra chassis is left in this one. It has a retro-1960's Aston-Martin or Jensen-like flavor. This would be a great Pacific Coast Highway car.
---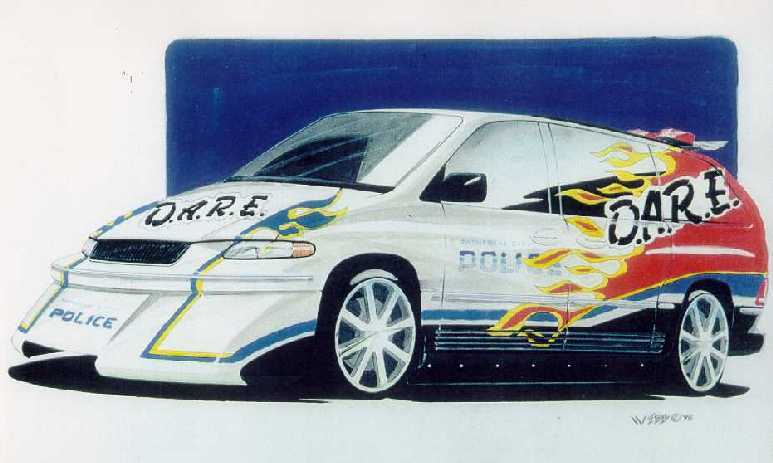 This Dare Van was built by and now operated by the Cathedral City Police Department. The Van, my design work and the paint were all donated to the cause. The air dam was not made because there was no body shop in the area to build it. Even so it is a real head turner. I have nicknamed it Back Draft.
---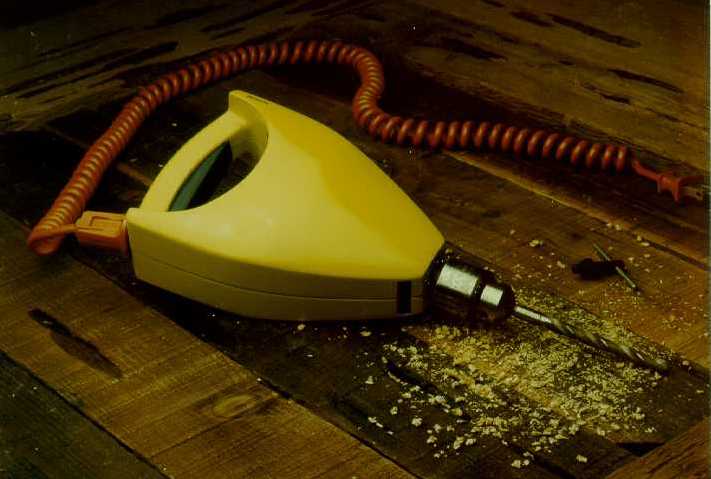 Here is a drill I designed. I made this mock-up of the drill out of solid pine. Pretty cool, No?!
---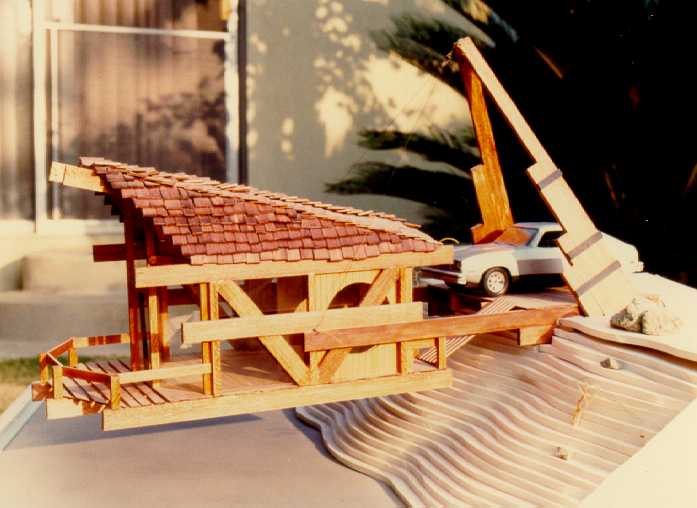 Here is a fun Architectural model I designed and built.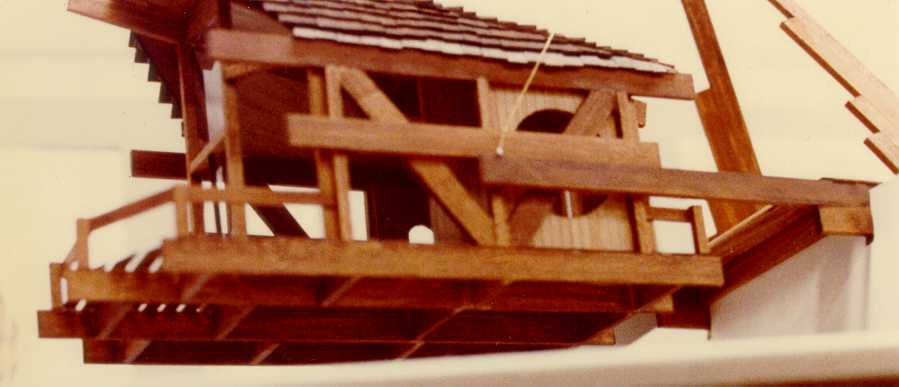 It hangs out over a lake suspended like half of a bridge. You name it, I have an idea for it!