Europe Trip
Any commercial use of stories, photo's or art without written authorization from Robert Webb is prohibited. © Webb 2003

Updated: June 9, 1999
---
Our European vacation was a success.
It was cold, wet and wonderful. Here is a journal of that trip.
This story is very long. Only my mother would really enjoy reading all of it. However, you might find the stories of the bus ride in Gibraltar and the meal in Algiers fun. Read on at your own risk. Rated G for family audiences. :)
Julie and I have been married for over 11 years now. We have not had a vacation longer than 4 days in all that time. We both work hard and have built a comfortable life. However, all work and no play makes for abrasive people. We needed a real vacation. Should we go to South America and visit family and friends? No. El Nino was whipping up storms off the coast of Peru. The Orient? No. It cost too much. How about visiting Europe? Yes! We both had reasons to go there and fares were down.
My wife and I found a cut-rate (Cattle Class) airfare with British Airways, $500 each, round trip. We also got a 1st class Eurorail pass for about $600 each. A couple of grand for sporting about money and off we went. If there were any recommendations I would give would be to expect reservation charges for the high-speed trains. This is a charge over and above your 1st class ticket.
My 4 year old daughter has a little Stuffed Toy Mouse named Tutter. She asked if Tutter could go with us to Europe. I agreed, and I now have photos of Tutter all over Europe.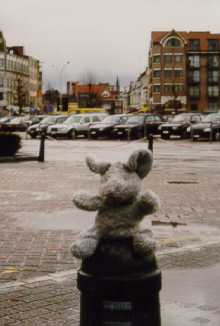 Tutter
Sweden
We arrived in Stockholm Sweden, late at night, December 28, 1997. My wifeís cousin, Alphonso, lives in a nearby Village named Strangnas. We visited him, his wife and 3 children. They put us up for a night in one of the kidís rooms. Their Apartment is over a small store in the center of the Village. It was snowing from the moment we arrived in Stockholm until the next afternoon when we left Strangnas. It was Idealic. Very pretty and serene. I swear these Swedes don't wake up until noon. The streets were quiet. No motion in the town until 10:30-11:00!
The Sun did not rise until 10:30am and set around 3:00pm. It seemed to always be dark. The further south in Europe we got the earlier the Sunrise got and the daylight stretched out longer and longer.
Alphonso showed us around the little town in the morning and we saw a big lake nearby, all iced over. It was a scene from a postcard. It was a good way to start our trip. We ate well at Alphonso's house. We had traditional Peruvian dishes; Ros con Pollo, for dinner and a simple Swedish breakfast, Bread, Butter, Cheese, Hot Tea, Wasa Crackers, Jelly and Orange Juice. The fun part was reading the package labels.
We took one of the new Swedish High Speed Trains, the X2000. It is smooth, very fast, about 110 mph andÖ a bit nauseating. The cabs lean over in turns. You do not notice much the first couple of hours but by the 3rd hour of this I was getting a bit green behind the gills. The appointments in the train were first class! Big wide seats with VERY large windows. We had the entire car to ourselves on the first leg to Goteborg, about an hour.
We changed trains and the second leg from Strangnas to Goteborg was 2.5 hours. They served us lunch on this train. I remember this meal because the train personnel were Swedish women. One of them was stunning. My wife rightfully kicked me under the table a couple of times. I think I was staring.
As we rode to Goteborg we saw no sun. In fact we saw no sun at all the first week. The second week in Belgium we saw about a half a day. The last week we saw 2 days of cloudy, sunny weather. I have never gone without sun for that long in my life. It was amazing. No sun. Not a hint of sun. Just hazy gray or black clouds. It rained off and on all the time until we reached Spain. Then it only rained once a day for about an hour or so. It was always COLD! I know, I know, what do you expect the weather to be like in winter! It was great fun for the first week.
We arrived in Goteborg and got a Hostel near the train station. You probably know what a hostel is, but if you don't, it is a VERY small room for about $10-$20 with either a single or a double bed with a cabinet for clothes and a small sink to brush your teeth and shave in. The toilet is down the hall, and if you are lucky, there will also be a shower or a bath. The good thing about Hostels, we found, is that they all seem to be very clean. They may be small, but they are all generally clean.
We marched around Goteborg for a while and then contacted my Old College Buddy Hakan. Hakan is a car designer for Volvo at the Volvo Design Center. His Identical twin brother Rolf is his boss! It was a grand tour of downtown and the surrounding country around Goteborg. This is the way to take a tour! We drove around in Hakanís Volvo Station Wagon. It was a delightful time.
We spent 2 nights at Hakan's House with his wife Ingegerd and his 1-year-old Son Marcus. Marcus is a little pixie! He is adorable and very smart. We gave him a Christmas gift. He figured out how to operate the small radio controlled toy in about 30 seconds. I think it was a hit. Our last night was New Years Eve. Hakan had a party with his family and us. It was really special. Hakan's elderly mother, his Brother Rolf, Rolf's wife Gunilla, and 3 daughters all watched television and drank champagne. At midnight a traditional poem was read by a famous poet in Sweden and then World War 3 commenced! The Swedish landscape is wet and not very combustible, so Fireworks of ALL descriptions were sent off in to the sky. It went on for an hour or more. It was intense and cold. If I had been a kid in Sweden I am sure I would have had a great time here!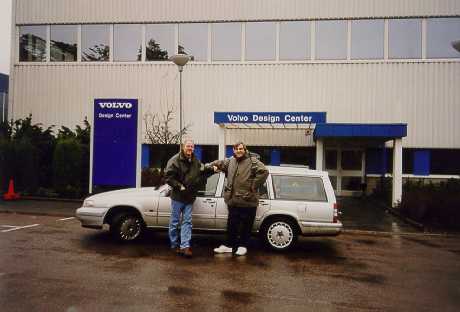 Hakan and I at the Volvo Design Center
Julie, Hakan and I went down to the Train station the next morning. Just before our train arrived an announcement in Swedish said that all electricity for all departing trains was down. Trains could arrive but they could not leave! It was instant chaos. People were shuffled outside in to the cold and stood a 1/4-mile from the train platform waiting for a phantom bus to arrive. Thank god Hakan stood with us and heard the announcement.
He helped us find the right bus. We waved goodbye and soon realized that the Bus trip was actually a good thing. We drove along the freeway most of the time, but once in a while we would get off and trundle in to a tiny Village and find the local Train Platform depositing some of our passengers. We saw more of Sweden that way than we could have from the train. These little traditional Swedish Villages seem endowed with a quaint, relaxed atmosphere.
We arrived at Helsinborg around 3:00 PM just in time for sunset. We got off of the Bus and managed to get on to the Ferryboat. The Ferry took Cars and People between Helsingborg Sweden and Helsingor Denmark. The trip took about 15 or 20 minutes. We got off and got right on the train to Copenhagen or Kovenhagen. Glancing at the train ticket I read the wrong time (arrival not departure), all of Europe is on the 24-hour clock, and thought we had many hours in Copenhagen to march around the streets. Julie insisted we check the ticket at the information desk. Suddenly we had to scramble getting our bags out of the Train Station Locker and each wolf down a $10 McDonalds Hamburger. We just made the train.
It was a sleeper train from Copenhagen to Brussels in Belgium. We had 1st class Eurorail passes, but the train was full. We were told that only 2nd class cabins were available and that we would have to share our cabin with 4 other people. 6 snoring humans enclosed in a space the size of our closet back home. This was not going to be pretty. We got on the train and the conductor asked for our tickets and Passports. We gave them to him and he started to walk away. Hey! "Where are you going with our Passports?" The conductor said we would get them at the end of our journey. And with that bit of unsettling news we set off looking for our cramped cabin.
When we arrived, we found we were alone. No other luggage. Well, we must have gotten there a bit early then. No. The conductor came by and I asked him. He said that we would be alone. There was no time for anyone else to get on. The train was leaving. And as he said that, the train lurched forward. Wow! A gigantic cabin like this all to ourselves! (Well, a room the size of our closet all to us.) We slept like babies on this train. One of 2 annoying things was that the train kept stopping all night. It was probably to let the Denmark Train Crew swap with the German Train Crew and also for Border Passport Checks. Things like that. But it still woke us up 20 times that night. The other bad thing was the Conductor stayed up all night next door smoking a cigarette every couple hours. GAWD that was awful. Thankfully he did not chain smoke.
We arrived in Cologne Germany sometime the next morning. We woke up refreshed and ready for the next leg of our trip.
Changing trains in Cologne was simple. We got off and 30 minutes later the big red "Thalyse" High Speed train arrived. We had 1st class tickets for this thing. Wheeeeee! Jetliner seats and big windows. It rocketed along at well over 100 mph. We arrived at Brussels in a couple of hours, I think. It might have been less. We changed trains in Brussels for a local train to Antwerp. This thing was pretty old, but in good condition. The ride was a bit rocky. We arrived in Antwerp and caught an even more ancient train to Saint Niklas.
Belgium
This is the biggest city near my Brother-in-laws tiny town of Temse. Carlos met us warmly and very happy. He has not seen Julie in a couple of years. Carlos's new wife, Carola, was at work this first day so we did not see her until evening. She is very pretty and has a quick wit. She is a perfect match for Carlos. He speaks 7 languages and is fluent in them all! He is now a high level Dental Technician. He makes Porcelain teeth. He is an expert at matching colors. He runs a small dental lab in Antwerp and commutes each day.
For the 6 days we were there, he took vacation time! He drove us all over Belgium. We saw everything but NATO headquarters! It was great. His father-in-law raises cattle and has a slaughterhouse in back of his house. One of his brothers-in-law has a trucking business, hauling meat around Belgium.
Carlos and Carola bought a vacant lot a couple of houses west of Carola's Mom and Dad. They then built a big and beautiful home! It was one of the nicest houses we saw in Temse (Next to his Father-in-laws that is). We had a bedroom to ourselves. Rich wood floors and radiant heaters in every room. The bathtub was big enough for 2.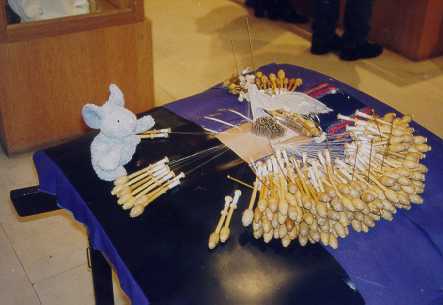 Tutter learns how to make lace
Anyway, all good things must come to an end and we needed to move on. Carlos drove us to Antwerp. We caught another big red high-speed train in to Paris France. It only took 2 hours.
France
From the Train Station we took a taxi to our prearranged Hotel. It was a nice little Holiday Inn in the center of everything. It was clean and new looking in the lobby. But, you canít hide a 1000-year-old building with just paint. The floor plan was kind of weird and our room was shaped like a pizza slice or something. Small, but clean, with everything one would need to relax. But did we relax? NOOOOOOOO!!!!!!!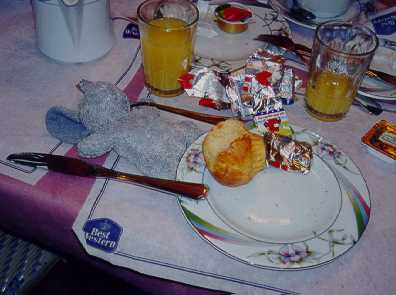 Too much cheese for breakfast!
Each morning we got a breakfast in the nice dining room next to the lobby. French cheese, Coffee, Tea, Orange Juice, Grapefruit Juice, Buttery Croissant rolls, multigrain rolls and bread, Ham slices and fruit salads filled the buffet style table.
Our internal boilers running on full steam, we hiked off to the Underground Subway station. It took about 10 minutes to figure out what all the symbols meant on the Subway map. But from there, we figured it out. It is very simple. In fact elegant in itís own way. I suppose it is a copy of the London Underground or something, but it still does not diminish the superb planning that went in to that thing. The only fault I can see is 2 fold. First, everything is DEEEEEEP down underground. It is quite a hike down and UP! Some places have escalators, but man, I feel for the old people in Paris. That is quite a hike! Second Everyone in Europe Smokes. Now, normally that does not bug me much. The problem is when EVERYONE SMOKES ALL THE TIME! Then I get a bit testy. I like a little Oxygen with my air now and again. Jeeeez. They are all going to die from lack of oxygen before lung cancer gets them.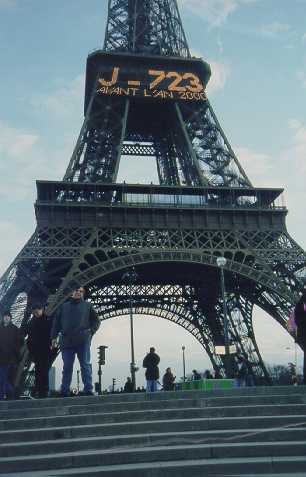 A cold windy day at the Eiffel Tower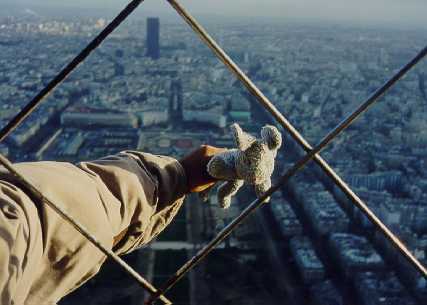 Tutter is nearly killed as he dangles from the top of the Eiffel Tower!
On the first day we walked the ENTIRE chans elysee road from the Arch de Triumph to the Egyptian spire and back. That has got to be a total of 4 miles. I just weighed myself on Saturday. I lost 14 pounds on this 3 week trip from all the walking. The second day we walked nearly all day around the Louvre Art Museum. We saw the Mona Lisa behind bulletproof glass. It reminded me of that awful movie "Bean". You know the one. Where Bean destroys the "Whistlers Mother" painting and replaces it with a souvenir poster. It is held behind bulletproof glass, so no one is the wiser.
The Louvre was great, but we only saw 10% of that place! From there we got back on the Subway and made our way to the Eiffel Tower. We went to the very top. It was breathtaking. The sun was setting and there were lights going on all over the city. We could see the Seine River with all of its riverboat traffic. Down the elevator we went and in to a taxicab. We made it back to the Hotel room and after a rest we went to see the movie "Titanic" in English with French subtitles. Great movie! People sneaked smokes in the back of the theatre the whole time. Viva La France!
A full nights rest and up and out we went. We caught a High Speed "TGV" or Tre Gran Vite train. A 1st class ticket all the way to the Spanish border in 3 hours or so. From there we got out of the train and boarded our second sleeper train.
This thing was amazing! A side view of this very old sleeper car would show our cabin like the letter T. The door is the center of the T. Our bunks were up in the arms of the T. Our heads pressed in to the padded arched ceiling. Our neighbors slept in a box under our bunks. I'm not sure who got the less confined space!
I am not by nature a claustrophobic person. In fact I kind of prided myself on that when I was a kid. But this thing got to me. I slept well, but I would wake up with a bit of a panic attack. I would need air or water or both! Once again this train stopped many times in the night. But this time there were no borders to cross. We were inside Spain. I havenít a clue as to why we stopped so much other than we were sharing the track with other traffic going the other way and we had to pull over once in a while. We woke up in Madrid a bit oily and groggy.
Spain
We checked our bags in a locker at the station and we strode out in to the streets of Madrid. We went down in to the Subway system and it felt just like Paris! It was simple and fast. We found the city center and proceeded to walk. And we walked. We continued to walk and then we walked farther still. I can only guess that we walked 10 to 15 miles that day. In reality it might have only been 4, but it sure felt like 15!
Madrid is a pretty city and at night it looks much like Paris. The city is accented with big beautiful fountains, statues, monuments, wide streets and imposing buildings dramatically lit. During this first morning we walked to the edge of an enormous City Park. Later I was able to retrace our exact route with a map, even in to the park and out. It is a very large park with established paths. In the center of the park there is a big shallow lagoon. It is probably an 1/8th of a mile long by a 16th. It has a very large statue of a military man, sword drawn, on horseback centering the Lagoonís backdrop. Large Columns and architecture give it a Roman feel, with a bit of Spanish hero worship thrown in.
We heard music near the lake so we followed it. There was a television show being filmed there. It was a kids show. There were 3 oversize canoe's filled with young boys or men. They were all in a race around this big Lagoon. The crowd was going wild. The Red canoe was in last place and trying hard to save face. Working like mad they tried to make the turn at the end. They flipped over and dumped everyone out. It was freezing outside. The guys in the water must have been near death! Well, it turns out they were all fine and laughing, but I was mortified. After this we noticed mimes and clowns wandering around. There were food stands at either end of the Lagoon frontage road.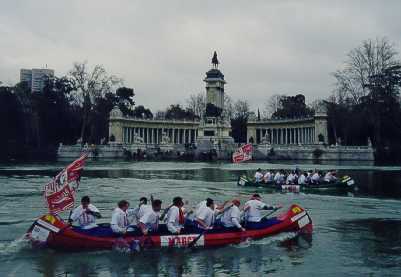 This is the group that got dunked
The second best thing I saw there though was a couple of classic Punch and Judy puppet shows for kids going full blast. The kids were very excited and tried to tell Judy that Punch was sneaking up behind her with a big bat and was going to hit her again. It was fond memories of the puppet show at Knotts Berry Farm that were running through my mind right then. I did not understand what these puppets were saying. But it was all the same as when I was a kid. I did not have to understand the words. The kidís faces said it all. This was the kindest memory I have of the trip. It was very sweet.


I did not have to see the last sight. It was something I heard. There was a band of South American musicians at one end of the Lagoon that started to play after all of the filming was finished. They played Peruvian Flute music. A Drum, and several traditional Spanish string instruments played, but the Flute was inspirational. It topped the day off well.
We caught another sleeper train out of Madrid that night. This one was like the first sleeper train. 6 beds. Once again, we got lucky and no one came until very early in the morning. I think it was one of the train workers. We woke up in Alecrias. Alecrias is a medium size port city along the Atlantic coast side of the Rock of Gibraltar.
Gibraltar
Our destination point was the Straight of Gibraltar. I wanted to see this rock and the small mouth to the Mediterranean. This navigational and military choke point has seen nearly every navy in history. I had read Tom Clancyís novel about the Russian nuclear submarine hunt. In that novel this spot plays an important pivot point in politics, strategy and navigation. I just wanted to see it once in my life.
It was more than I had hoped for. At first I was not too sure. In fact I thought we had made a big mistake in going to the rock. As we approached Gibraltar in the bus that morning the town in front of the rock made Ensinada look good. It was utterly plain and un-interesting. Dirty in fact. We nearly turned around and went back to Alecrias right at the bus station, but I wanted to at least get a better picture of the rock. Then we could go.
For some strange reason there was a great deal of traffic going to the Rock. It is a Huge thing that rises up out of the sea like an enormous fractured egg surrounded by flat sea and flatter land. A big fence hid what was beyond and I could not get a good shot of the beach and the rock. So we followed the traffic towards the rock a bit. This is where we met the Border Guards! Things were getting interesting in a hurry! They wanted to see our Passports! It was like going to another country! In fact we were going to another country, Great Britain! Gibraltar is one of their possessionís! I must have missed that lesson in High School. I was told by an Englishman later that the Spanish Hate Gibraltar being owned by England. It really pisses them off, not just because England owns it, but because they do an enormous amount of business there.
Gibraltar, it turns out, is one of the busiest seaports in the world. This little tiny 2 or 3-mile finger of land, 1/2 mile wide, has commerce that Spain wants! The entire rock and any land attached to it are PACKED with high rise apartments for the dock-workers and business people. Not only that, This rock Bristles with High Tech Satellite dishes and antennas. American Military and British Military presence is very heavy and security all over the Peninsula seemed incredibly thick!
Spy heaven!
Which brings us to our bus ride on the "Rock". Julie bickered with the Tour Taxi Cab drivers and could not lower them below $40 or $50 for a tour. This is an expense we had not counted on, so we decided it was just too much. We began to hike on in to the rock! Just a few meters past the cabs though we saw a really beat up, piece of #?/@, airport type mini-bus parked at a bus stop.
This turned out to be my favorite ride of the trip. The driver was Moroccan, I think. He spoke Spanish and English as well as the rich North African dialect he normally spoke, whatever the hell that was. He wore a brown tunic with tire tread sandals. I think the entire tour cost something like the equivalent of 20 cents each. It was the localís bus. We paid our 20 cents and were given a coupon for 25 American Cigarettes! Wow!
The Moroccan driver flipped the ignition switch on the dash and this thing fired up. Instantly the cab filled with exhaust gas and a sickly sweet smell of burning oil! Fighting the nausea of this first smell, I smiled knowing that once underway, all the open windows would suck it out. This was going to be one hell of a ride!
The driver sat on the right hand side, yet drove on the American side of the street. It must be a holdover from the Spanish driver safety issue. He ground the gearbox a few times and found a gear that would engage. He revved the engine and 100%, flat out, dumped the clutch. We smoothly slid forward as the ancient clutch eventually began to grab. The air cleared as forward motion became apparent. We were underway. I was not sure if the steering knuckles would give out first or the brakes. Of course I could be wrong. The entire body of the minibus might just slide off the frame. Away we clanked and bounced forward. We gathered up speed at a surprising clip. The driverís feet were on the floor. Under them was the accelerator.
As we drove I began to look out the window. Directly ahead of us a great expanse of flat pavement. What in the hell was this? Just before the pavement there was a signal light. It was green. We drove past it as we continued to accelerate. We were crossing an active runway for large Boeing Commercial and Military Aircraft. I saw the tail of a British Airways Boeing 757 poking up behind a large hanger. With a lurch we began a strong deceleration. The driver had downshifted and we were slowing for the obvious stopped traffic on the edge of the tarmac.
I was tempted to explain the concept of preparing for a stop, looking ahead, and giving a car length for each 10-mph you were traveling. But then I realized I was with Julie and I valued peace and harmony more than safety. I then asked myself what my, mathematician cousin, Lee Courtney would calculate the odds of a successful, safe adventure on this one trip would be. I concluded that it would be fairly high that we would survive, and I should throw caution to the wind and just enjoy the trip. Visions of Disney Lands "Mr. Toads Wild Ride" danced in my head.
We entered a vibrant little city. Not one square foot was wasted. Cars parked on the sidewalk. The streets were little more than 1.5 cars wide and yet traffic sped past in opposite directions as if this was normal. It was! High Rise Apartments and Office Buildings rose 5 and 10 stories high. To the West was an enormous Dock System for Huge Ships. Cranes of every description were there.
Quaint little shops grew out of the rock wall looking like something out of a Disney Story Book.
The bus rattled and the leaky exhaust baffled out from under the truck with a phut and a bang. This scared a bicyclist so much he nearly crashed in to a wall on our right. This wall was only 2 feet tall, but it kept the bike rider from falling nearly 30 feet to another road below. Our driver blew by him, I am sure, leaving oxidized white paint on the bikers black riding pants.
We climbed steadily as we listened to the groaning of misaligned steering parts grinding without the aid of oil or care. The wheel bearings seemed lubed enough. But they seemed out of round and more slop than was possible was somehow occurring. Missing parked cars by centimeters caused the driver to gasp once in a while. And then we made our first stop!
Skreeeeeeeeeeee! Whatever lining the brake drums enjoyed 40,000 miles ago has long since left the scene. Metal to Metal was the audible sound. We stopped at a little sign. No sooner had the circus of sound ebbed there was another kind flaring up. It was North African Curse's and Swearwords. I have never heard North African Swearwords before in all my life but I am now sure that I could recognize one or two. Another Moroccan man was standing at the little sign holding a bucket full of raw bait and a fishing pole. His hip waders had years of hard work imprinted on them. His worn work clothes were clean, but his hair had a few tell tale fish scales in it.
He boarded the bus verbally tearing in to the bus driver, all the while making the prerequisite exchange of Pesetas and getting the coupon for 25 American Cigarettes. The more he did, the broader the smile on the bus drivers face. It was infectious. I grinned and looked back to the rear of the bus. The other 8 occupants of the bus were smiling to. This seemed to be a regular thing. Everyone was in on it. The complaining fisherman seemed to be saying, "Damn-it!, Where have you been? You are 2 minutes late! You rat bastard!"
The idling engine revved up, floating the lifters again, and Bang the pedal to the clutch was dumped. Away we slid. As we did so the protestations of the fisherman got louder and we all smiled wider.
Around many more tight mountain corners we crunched. The cool clean ocean air filled each breath and the view of the ocean and mountainside got more and more beautiful as we plowed along.
Skreeeeeeeeeeee! Another little sign and this time 2 more protesting fishermen. These guys were in on the joke too. I donít know how, other than to say it must happen every day. They just feigned protest I think. They yelled at the driver while smiling and saying in Moroccan, "You rat bastard, youíre late again! We ought to kick your ass!". The driver shot back some more expletives towards these 2 new salty fishermen with their bait buckets and hip waders. The entire bus was laughing now.
Bang! There goes the clutch again. Wizzzzzzzz we start sliding forward. Idle banter and chitchat ensues all over the bus and I canít help but envy the happiness these men feel. This is everyday. These guys see each other all the time. They go to dinner together. Their children and grandchildren marry one another. It is a family. A community. No where else did I see such happiness on the streets anywhere in Europe on this trip.
Pure Joy and life emanated from that old jalopy of a bus. We arrived at the southernmost tip of the Rock. The fishermen piled out slapping each other on the back laughing. They headed for the cliffs edge. I assume there is some sort of beach down below. A cute lighthouse and a beautiful white Mosque adorn the cliff. Of course the 1960's vintage souvenir shop next to lighthouse added its own amount of Kitsch. The sign above the front door said "The last souvenir shop in Europe" and below that, "Much Cheapness".
From this point we could see North Africa even through the heavy cloudy day. It was like seeing Catalina from Long Beach. It was that close. Of course it is probably twice that distance and seriously deeper than the stretch between Catalina Island and Long Beach. But I hope you Californians get the comparison.
The driver said we had 15 minutes to take pictures. He stepped off the bus and began a bull session with his buddies next to the front bumper. We took some pictures and bought a couple of Coca-Colaís. Later our driver had moved inside the shop and was now plunging many pesetas in to the ancient Slot Machine by the front door.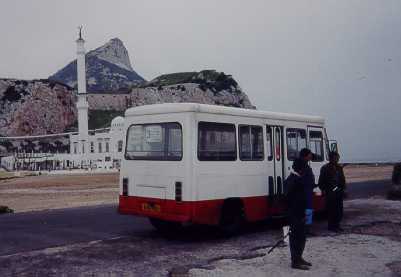 Don't be fooled by the nice exterior paint job. It was a real jalopy!
A less adventurous trip awaited our return to the border. However the "Idea" of Gibraltar still blows my mind. It is a sleepy looking Port City steeped in International Politics and has the Highest Tech instruments known to mankind guarding it. I am very glad we got to visit there. Thank God for holes in my education. We took another local bus back to Alecrias to decide our next move.
Spain (again)
One of my wifeís favorite stars is Antonio Banderas. He is that Good Looking Spanish tough guy with the thick accent. He recently married Melanie Griffith, one of my favorite actresses. Well, it just so happens that Julie knew that one of the couples favorite places on earth was just 3 hours by bus west of our present location. Marbella (Ocean or beach, Beautiful)!
She wanted to visit the town to say that she had seen it. She could then give an on the ground type of report to anyone interested back home. I agreed and we jumped on a bus. Half way there the bus was stopped at a bus stop and 2 Policia walked in. they walked to the rear of the Bus looking at each face along the way. Then they started asking, "Passporte por favor" to each of the people behind us. Instinctively Julie and I pulled ours out. This was a manhunt! Many images of old spy movies ran through my head. When they got to us they passed us over and continued to ask beyond. I guess we did not fit the description of the suspect. Darn, I was enjoying the adrenaline rush.
On we went. We arrived at a big Autobus Station in Marbella late at night. We checked in to Hotel over the Bus Station and dumped off our stuff in the room. We took a Taxi in to the heart of Marbella, right along the coast of the Mediterranean.
It is a pretty town. It must have 40 or 50 thousand inhabitants. It is a Choice Vacation spot for many Spaniards. I think I counted 20 Pizza Parlors in town. We ate at "Mama Miaís" Pizza Parlor right on the Boardwalk on the beach. It was one of the best meals we had on the trip. I had the spaghetti. It was almost like Vinces Spaghetti back home. Honest! The tomato paste was a bit thinner and not as bright red, but it tasted the same. I could see my breath after eating the delicious Garlic Bread. Wow! That was good.
While walking around, we found a nice little 2 or 3 star hotel 1 block from the beach. The Lima Hotel. After spending an evening at the clean, functional room over the bus station we relocated to the Lima Hotel for 2 nights. At $40 a night, one block from the beach and Mama Miaís Pizza Parlor, on the 5th floor with a clear view of the Ocean, we had found our favorite spot to rest on this entire trip. There was one building in front blocking a straight view, but that did not matter much. It was still a great view. A non-existent weld on my bed frames legs collapsed at 3:00 in the morning on the last night. This forced us to move to another room, tainting the stay a bit. But I really recommend this place for anyone looking for a bargain in Marbella. There are many 5 star hotels right on the beach with dynamic views, but you can bet their prices are dynamic as well.
The shopping there is great. Many kinds of shops, most catering to the upscale customer. It reminded me of a cross between Oahu in Hawaii and Balboa Island here in California. The shops were like those on Balboa Island and the High-rise Hotel scenes were like Waikiki beach.
The only real negative about Marbella is its beach. It is a dirt, rock and sand beach. On our visit It was not very pretty. Maybe the City Council imports sand for the Summer Tourist Season. They need to do something. The boardwalk needed no help. It is a wide pedestrian path along the beach made of big, flat, rectangular stones and pavement. It is landscaped well and the lighting along it is romantic.
Morocco
While we strolled along the main street in Marbella I asked Julie if we could visit Morocco. She was intrigued with the idea and said, "letís look in to it". The cost was very cheap for an all expense paid day trip to Algiers or "Alger", Morocco. For $45 each it included a high speed Hydrofoil boat trip across the Straight of Gibraltar and back. A guided tour of Tangiers and the Casba, along with a Camel ride and Photo Op. Well, we jumped at it. The only negative thing was that we had to be in Alecrias at 9:40 the next morning. We bought the tour tickets and went to bed, setting the alarm clock for 5:00 AM.
We got up and hailed a cab by 5:50 AM. We arrived just in time for the 6:00 AM bus to Alecrias. We arrived back in Alecrias at 9:00 AM and lugged our bags to a locker at the Train Station. We got to the Boat Dock 10 minutes before departure. All of that frantic behavior paid off, we had made it.
Well, for cornís sake! We were not going to get a Hydrofoil ride after all. The Hydrofoil had been replaced with a high speed Ferryboat. This thing was a bit longer that the biggest 747 you ever saw. And yet, it looked like a pumped up cigarette offshore racing boat. Its lines screamed "SPEED". It was quite odd. We boarded the ship and found the interior more like a Jet Plane than a boat. We sat in the big seats and looked out over the docks of Alecrias.
The ship had been backed up to the dock and its fantail rear door had been let down like a drawbridge allowing a couple of cars on board. This was definitely an off season trip. The ship was almost empty. I counted about 20 souls on board and 2 cars in the hold. The hydraulic ramp in the tail and gangplank for the passengers was removed. The huge diesels under the deck thrummed to life.
We creeped out and away from the dock moving forward towards the harbors opening. We started to point towards The Rock of Gibraltar and passed a big ferryboat tied up at another dock. This boat looked very familiar and at the same time very bizarre. The new James Bond Movie has a Stealth ship owned by the Evil Media Mogul. It is a giant catamaran with a speedboat prow poised 20 feet above the water. It is very fast looking and a bit evil. Well, this was either that ship or one of its sister ships. The bizarre Catamaran is even stranger looking in person. Somebody paid a lot of money for that thing.
We gained speed gradually. When we reached the break water, I thought we were suddenly on a powerful ski boat. The awesome power of the engines under our seats roared to life and the ship just sort of sat up and squirted forward. It was amazing. This thing could haul ass! The trip across the straight took about an hour and a half. It might have taken 30 minutes had we just had to go straight across the opening to North Africa. But instead we headed out in shipping lanes towards the deep Atlantic, paralleling the coasts. We were headed for Tangiers. It is a bit of the way out to sea further west along the African coast. This sucker would lean in the turns just like a ski boat. It was incredible. What a ride.
We were racing past all kinds of ships. All of these ships seemed to be under full power. You could tell by the bow wake they all made. It was like we were on the freeway passing other cars. We would get within a couple of city blocks of the other ships and we could see people and cargo on each of the ships. They were moving very fast in the water meeting the incoming waves from the Atlantic with great force. Some of the spray would go way over the bow of some of the ships. They did not seem to be very deep draft ships either. They were just moving fast in high seas causing huge white spray and the bows of the ships would dip pretty deep. We passed them all!
We were "Miami Vice" in a Cigarette Boat blowing by everybody! This ship was honking along. Our bow would occasionally dip VERY low causing shudders through the superstructure as we cut through a thick bow wave. I swear we nearly jumped over some waves. I would not be surprised if the other ships could see daylight under our bow once in a while.
We arrived at Tangiers expecting a tour bus. Instead, our tour group numbered 6 and we only rated a couple of clapped out Mercedes Taxiís. Julie and I, plus a husband and wife team from England and another couple from Hayward California, near San Francisco, rounded out the entire tour group. At the end of the tour I found out that the husband works in Hayward doing the same thing I do, Computer Networks. Julie rolled her eyes when she heard this. We were on vacation and shoptalk had been banned! I cut it short for her, but not before discussing NT v4.0 Server!!! Ha ha ha ha!
What to say about Morocco? Well, the views from the hills among the giant Eucalyptus trees reminded me of San Franciscoís Golden Gate Park and the Bay, but beyond that I have no point of reference. As far as I knew I was on the planet Mars! Julie and I got our ride and photo sitting on a Camel for about 100 pesetas each. And our walking tour took us to breathtaking vistas looking out over the Bay. The Sun was out and bright in Tangiers. A Cobalt blue sky with only tell tale wisps of contrail from passing jets overhead made an impressive backdrop. But if you look down the cliff at your feet, you see a dumping ground of all manner of junk and refuse. The stench rose up even as the clean sea breeze attempted to blow it away.
The poverty is crushing, as is the lack of any real sanitary conditions. The Casba is the central shopping area. It is a Honeycomb of 4 and 5-foot wide streets and walkways. It is stifling and confusing. Everywhere you look there is someone with a hand out or something to sell you. All the buildings are at least 2 stories tall. So you are always in a canyon of rotting and poorly constructed masonry walls either climbing or falling down steep cobblestone pathways. Mud is everywhere. The rain has to have been recent.
Tiny oven rooms had charcoal pits for stoking a fire and cooking bread or local family meals for a small sum. It was Ramadon however and the entire city was fasting until the evening meal. All the fires were out. Work went on in the tiny openings in the walls unabated. Children of all ages were working pulling on 6 and 8 foot long groups of thread. An adult or teenager was busily at the other end sewing by hand a traditional covering. I canít recall the name of it, but it is a kind of robe most men wore. Women wore Full-length dresses and many were wearing veils over their face because it was Ramadan.
Our Tour Guide wore a bright yellow Robe with a colorful knit cap. It was a Fez like cap with no tassel. He was funny, and the most popular man in the city. He had deals cooking every 20 feet we walked. For instance; we were surrounded by street merchants saying things like, "hey meester, you like? Only 20 pesetas!" Our guide would plow through this sea of humanity and like a laser draw us up to a little stand selling postcards and stamps. This guy was "Approved"! We dutifully bought there.
On we went through many streets along the coast and stopped in a parking lot area next to a police station. 2 men in traditional robes were standing there and our guide invited us to take some pictures with these gentlemen and if we were of a mind, why not drop 100 pesetas in their cap. Whereupon the elderly of the two opened a basket on the ground and pulled out a gigantic Cobra snake! He promptly dropped it on the pavement and kicked it a bit with his slipper to keep it next to the basket. He reached in again and pulled out a big ass yellow and green snake. Yikes! Another "approved" attraction. Julie was somehow talked in to having this snake wrapped around her neck! In the mean time the Cobra was slithering behind the basket and down the street a bit. The second man kicked it back to the basket using his slippered feet. It was surreal.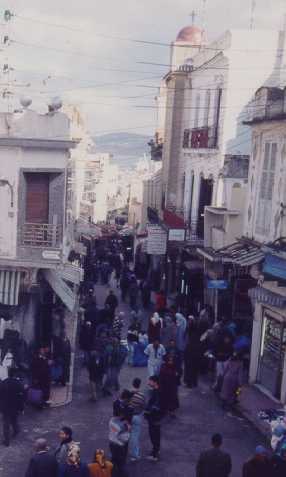 A wide open, airy, section of the Casba
We were walked through areas with cages of live chickens. We walked past shops with thick air full of the smells of exotic spices. These places were the pharmacies. People went in to get raw ingredients to whip up a home remedy. We stopped at one of these places and were treated to many amazing smells. Another tour stop found us upstairs at a carpet factory. Hand woven fabric. Carpets being sold for $200. It sounded great, but then we realized there would be no way for us to get it home. We would have to "Trust" the Moroccan Rug merchant to send the Rug we bought to our home. We heard rumors that the rug you buy is not the one they ship to your home. So off we went. Brass Oil Lamps at $80 a pop and pottery nearly as expensive graced the lower levels of this store. We were getting hungry and queasy thinking about our lunch preparations.
Mr. Fez Hat Tour Guide led us up yet another set of stairs to the top level of a building overlooking a busy market lane. This was to be our lunchroom. This small restaurant was vacant but for a sleeping musician in the center of the room. As we walked we shocked him awake and he began to play his traditional string instrument. It was a kind of a tiny guitar made out of a gourd or something. The sound it made was soothing and exotic all at once. Later he was joined by another musician who would alternately play another stringed instrument or a small drum or tambourine.
We sat down in the corner of the room listening to the music and realized our guide had disappeared. Home for a nap we all presumed. This was Lunchtime but it was Ramadan and only we heathens were eating. They brought us good bread and Coca-Cola. Koos Koos and Shishkabab were all served while the musicians played. I ate most of what was laid out before me. Julie was freaking out that I did. I just figured that I would see it all later anyway on the boat ride back to Alecrias. She kept telling me things like, "you donít even know what kind of meat that is!" And "How do you know they use hot water to clean these plates". I somehow avoided nausea and actually enjoyed parts of the meal. I was a fool. She later treated me to stories of worms inside intestinal tracts. I am still wondering if something is growing inside of me. We both laughed a lot.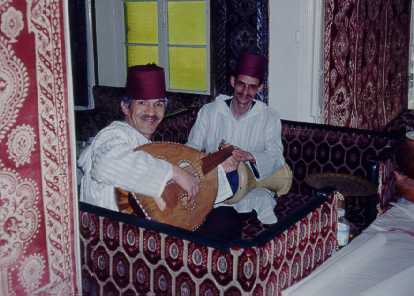 Sleepy, but good musicians
We all paid for our meals and tipped the waiter and musicians. As we left I saw then all go back to sleep. We marched all around the marketplace for 20 minutes or so and then we were whisked off to the ferryboat for the journey back to Alecrias.
Spain (again)
We arrived at around 6:00 PM just as the Sun was setting. We hiked up to the Train Station and got our bags and set off in search of a Hostel. About 2 blocks south of there a clean little place with pretty tile work and gleaming woodwork proved to have a room for us. We put our stuff away and set off looking for dinner. We ate at McDonalds. Julie wanted clean food with a known quotient of environmental cleanliness. Alecrias is a pretty city built into foothills with many shopping areas and public squares. I really liked it. We slept well that night.
In the morning we rode a train north to a train transit point and changed trains heading for Seville. After depositing our stuff in the Seville Train Station Locker we took the local circle Bus for a tour to see what we could see. Seville has many large Palace like structures and Government buildings. The bus drove by the ruins of an old Worldís Fair exhibit complex. Some of it was well kept and it was very interesting as far as architecture goes. Seville also seems populated with more than its share of Universities and or Colleges. Everywhere the Bus stopped, Students of all ages got on and off carrying books and bags. We finally got off looking for a place to eat lunch.
We walked quite a distance when I grumpily told Julie, "anywhere you want to eat is fine, but I want to eat now!" I was being testy and a bit of a brat but my excuse was that I was hungry, it was lunch-time, and I needed to sit down. My legs were getting tired. I had not had anything to eat since the night before. Julie said, "OK. We will eat at the next nice place we see along this block". As she finished that sentence a gleaming "Pizza Hut" sign came in to view from behind some trees, on our side of the block.
Julie moaned audibly. She wanted something with Rice and maybe some Chicken. I was hoping for Pizza. It was just too perfect. To top this great lunch off, a young womenís College was just next door and a parade of pretty young ladies passed our table by the window the entire time. Julie put her head in her hands and just laughed. She accused me of stalling at the table saying that I said I was tired just because I wanted to enjoy the view a bit more. She was right, but I did not want to give her the satisfaction of being right and ruin this perfect lunch. I was batting 1000. I lied and said I was just tired. God, I am a jerk!
Well, we struck out looking for a place to sleep in town and eventually made the decision that Seville was just a bit too ordinary looking and plain to keep our interest for another day. We got our stuff and jumped on the brand new high-speed train to Madrid. This was the newest train in all of Europe, and it showed. Everything gleamed.
The ride on the train was glass smooth. The smoothest of all the transportation we had yet ridden on. I could draw in my note pad while we blasted along the tracks at well over 100-mph. The service seemed like a matter of National Pride. We had train personnel passing out Headsets for the in-flight-movie, food, snacks and beverages. It was very plush. Julie and I sat at a table. I had enough room to play solitaire and FreeCell (Real playing cards, not on a laptop. We brought no electronic devices other than the alarm clock). I forget if it was 2 or 3 hours of travel time. The film on the overhead television sets was "Phantom". It was an American Super Hero film dubbed in Spanish. It was enjoyable. Julie caught a little sleep. When we arrived in Madrid we put our stuff in a locker and found the Underground Metro Subway again.
We went looking for the Airport. We wanted to confirm our flight on Saturday and see if we might be able to catch an earlier one. By this time we were missing the kids a great deal. Actually we were probably ready to go home after the first week or so. But, we stuck to the plan and steeled our convictions into having some downtime and finishing the trip as planned. But now, we were REALLY ready. Once we got to the airport by taking the Metro and then a Bus we tried many scenarios with the ticket agent. We decided to stick with the original plan. This meant we had another couple of days in Madrid.
We found a Hotel in the center of Madrid and checked in. This is about the time when I got very sick. It was a kind of a cold. I stayed in bed up until the time we checked out and hailed a Taxi to the airport. I was in no condition to travel on several Metro trains and a Bus. We flew out of Madrid the morning of January 17, 1998. We arrived at Heathrow Airport 3 hours later and changed planes for home. We had a 2-hour layover and caught our 10.5-hour flight to LAX.
The kids greeted us at LAX with home made signs after we got through Customs. I cried a bit. I never want to leave without them for that length of time again. It was a great trip. But both Julie and I were glad to be home.
The End