RoboCop Unseen Movie Cop Car
Any commercial use of stories, photo's or art without written authorization from Robert Webb is prohibited. © Webb 2003
Updated: Jan 30, 2002
---
George Lucas and Steven Spielberg, eat your heart out. Jon Davison, Ed Neumeier and Paul Verhoven got me first. These "never before seen" concept drawings are from the first RoboCop Movie. The concepts and ideas were all mine as inspired by Ed Neumeier, the writer of RoboCop, and to some extent, Paul Verhoven the Director and Jon Davison the Producer. These drawings culminated in the construction of 6 real, full size, Police Cars based on Chevrolet Camaro automobiles.
If you are interested in seeing photos of the RoboCop Movie Director, Writer and Producer, click here RoboCop Production Crew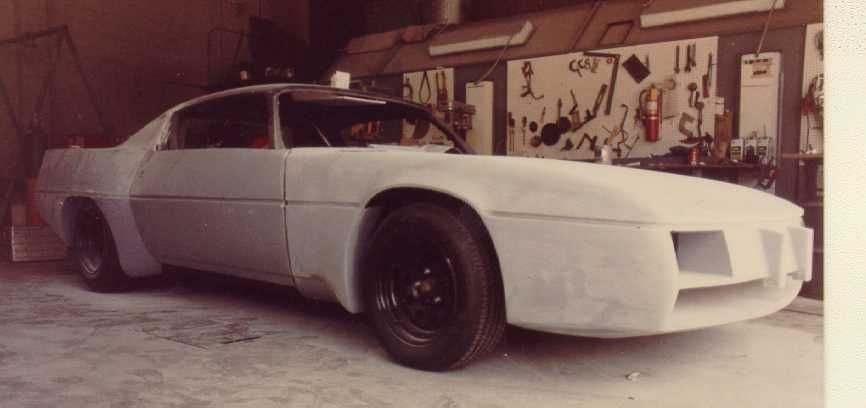 All of this started in mid 1985. I was working on a Rock Video called "Black Planet" for the British Rock Group "Sisters of Mercy". It was their first. If you are interested in that story it can be found on this web site. I had been an artist for George Barris for a while. George is the man that made the Television "Batmobile" in the early 1960's.
We were finishing the building process of a "Riptide" Television show speedboat. I had helped with George Barris's design and eventually worked on "Knight Rider's" K.I.T.T. car as well. But this day, I was merely a car delivery person. The Sisters of Mercy film crew had rented the, Dean Jeffries design, "Monkeemobile" from George. He owned the car and since I worked for him it was my job, quite a plum assignment, to deliver it to the set and keep it safe. That's all. While I waited around as the video was being shot, I spent some of the time in SOM's Winnebago Motor Home.
While I was there I met a very pleasant young woman. As we spoke she dropped an interesting bit of news. This news would ultimately consume the better part of a year of my life. I wish I could remember her name. I would like to thank her.
Her Boyfriend or Fiancé was a producer or writer or something and was working on a new motion picture. It was going to be a Science Fiction film, but they were having a hard time finding someone to design the sets, costumes, cars and props. I could hardly contain myself, but somehow I smoothed out my response. I told her that I could do just that. I was a graduate from Art Center College of design in Pasadena as a Transportation Designer, or Car Designer, and I did that kind of work. I gave her one of my cards. She gave me his contact information. It turns out that her Boyfriend was associated with Tobor Productions and the Feature film they were working on was Orion Pictures Blockbuster "RoboCop"!
I asked Jay Ohrberg Show Cars to partner with me on this proposal. He would build the cars and I would design them. Eventually, we won the competition and got the $80,000 contract. Jay Ohrberg Show cars would have me design the cars, and then they would build them to those specs. JOSC would then lease the cars to the studio for production and would retain ownership of the cars.
Jay Ohrberg Show cars built the cars and delivered them to the studio. However, there was a contract dispute of some sort, and the cars were never used. Despite this, Jay Ohrberg Show Cars can be seen in the final credits of the film. What you will see on this page are my drawings and ideas leading up to that series of cars. When I get some photographs of the 6 cars I will post them on this page. In the mean time here are the drawings.
On 11-22-1985, in a Culver City Movie Studio, my partner Jay Ohrberg and I met the Producer of RoboCop for the first time. His name was Jon Davison and his film company is called Tobor Productions. Tobor is Robot spelled backwards. Robocop's father was Ed Neumeier, the scripts writer. He and Jon Davison interviewed us as potential car builders. That was a shock to me because I had thought that Jay had told them that I was a car designer in an earlier phone conversation.
Instead, the designer was to be the renowned Comic Book creator and Icon Howard Chakin, of "Judge Dredd" Comic Book Fame. His characters and story were eventually made in to the film, "Judge Dredd" starring Sylvester Stalone. Somehow, though, by the end of this particular meeting, Howard was out and Jay and I were in.
The next 4 drawings are from that first day's encounter. There were many more, but these represent the ones that seemed to strike a chord with Tobor. In other words, these sketches are the ones that got us the job! I quickly made these sketches on the fly as we spoke in the meeting. My quick ideation clinched it.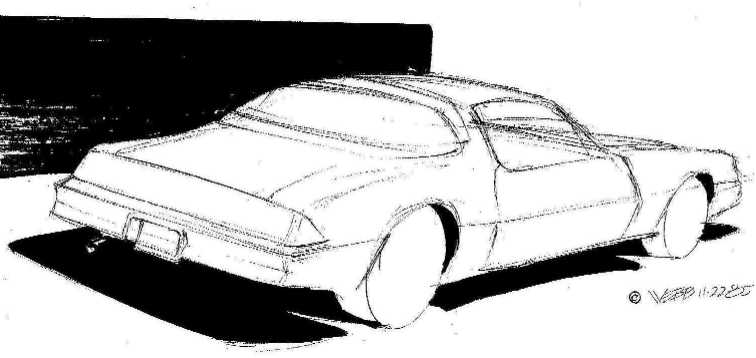 This is the first drawing I made in the meeting. Jay and I had said that a Camaro would be a prime candidate to modify. I used it as a template for the other drawings that followed.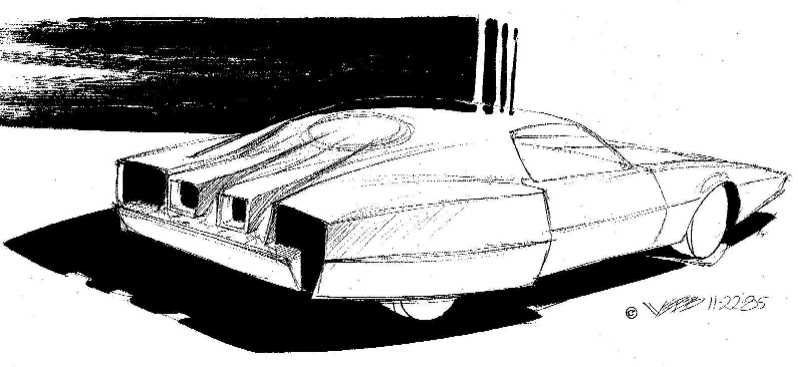 We were told that the car would be a "Twin Turbine" engine car. You can see this reflected in the box shapes in the rear.

I loved the Batmobile and I tried to sway them with a little "Caped Crusader" action here. They liked it and wanted to see more.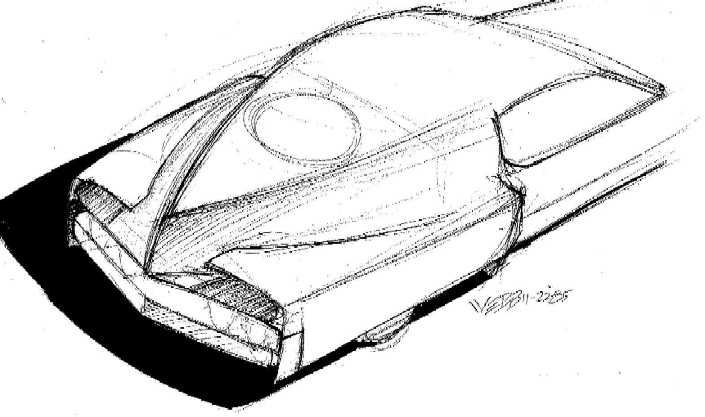 I love tail fins. In this drawing I made some and then folded them in towards the fast back roof line. The boat tail design helped cover the fact that making custom rear glass would be a problem. We just made all of the cars with no glass or easily made flat glass. In the drawings above you will notice a circle on the rear. This was to indicate an OCP Police decal.
RoboCop's Director, Paul Verhoven of Starship Troopers and Total Recall fame, was not around this early on. He became fast friends with Jon and Ed. They later teamed up with Tobor again on Starship Troopers. I was there the first day Paul came in. As I recall, he was fresh off a plane from Europe and a bit disheveled. By luck, I was also around when Peter Weller, of "Buckaroo Banzai" fame, was hired to play "Alex Murphy" and "RoboCop". Nancy Allen was hired later on. She was the only one I did not get a chance to meet.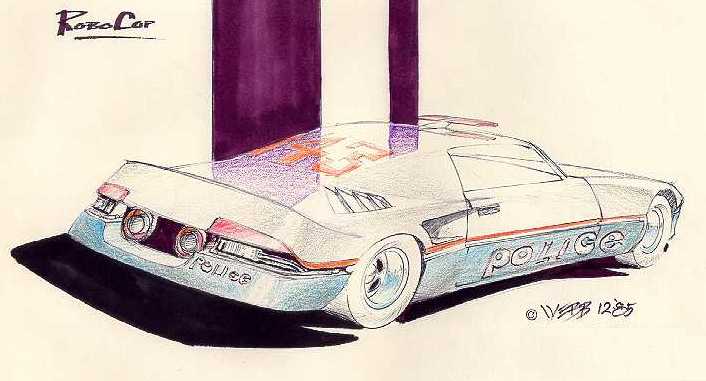 After we landed the deal, I stayed in the studio offices for a few weeks drawing and discussing changes. This is the first serious design direction. The "water line" belt line around the car stayed with most all of the versions that followed.
Notice also that the name Robocop is spelled as RoboCop! Early on, I had not concentrated on how Robocop was spelled in the script and I kept writing the name as RoboCop with the "B" and the "C" Capitalized. In the script it was always spelled Robocop with only the "R" Capitalized. Ed Neumeier the writer asked me one day, "Why do you spell it that way?" I said that I thought it read better that way. It had punch. Sometime after that it was always spelled RoboCop! So, I finally had an influence on the film! All of the film's logo's spell it "RoboCop" with "B" and "C" Capitalized.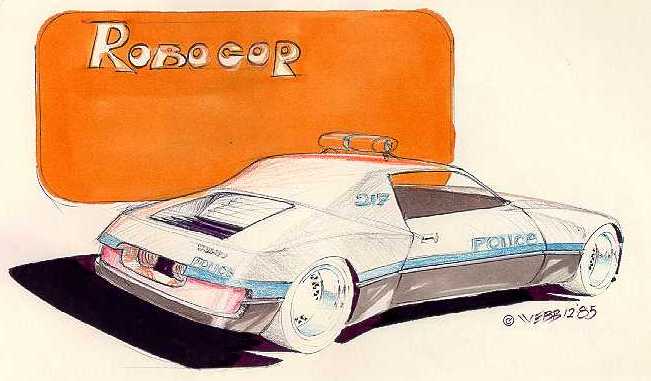 This sports coupe model would not have had room for "Prisoners" so it was scrapped. Kinda gutsy lookin though!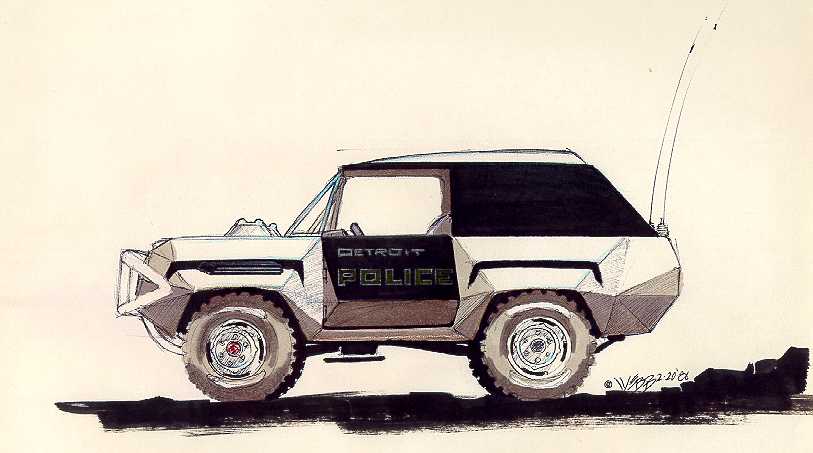 At different points we had other ideas. In this one we predated the SUV craze. The 4x4 off road vehicles would be able to maneuver in the bombed out city without a problem. It was bulletproof and Bombproof also.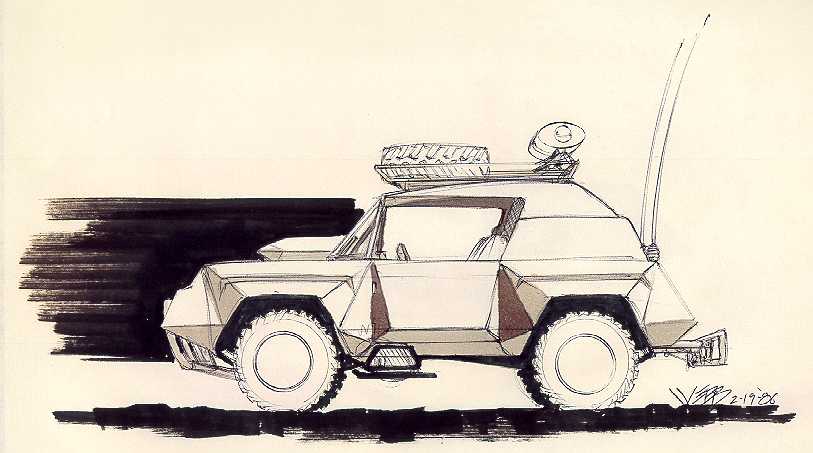 I liked this one a lot. I had just the right amount of Macho Zeal!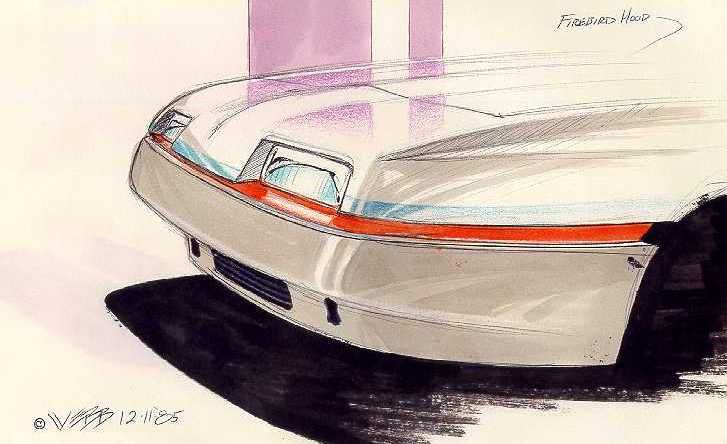 Don't forget, we had to actually build what I was drawing. So, we looked at existing hood lines on Camaro's and Firebirds. This one studies the Firebird hood line. You will note that the look of the cars was not very futuristic. They were not intended to be. this was to be just a few years in the future. Actually 1998 to 2000 if I recall correctly. The front end was to be soft and have rectangular headlights, believable. Of course the trick of the cars was that they had twin turbine jet engines. One of the final cars that were built was capable of shooting "Twin" flames 20 feet behind the car!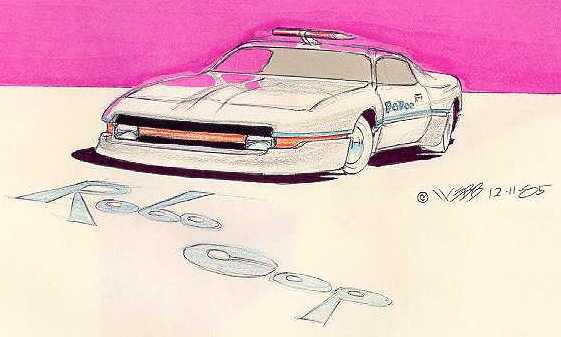 In this drawing you can see some of the flavor the final car ended up with. It's characteristic beltline went all the way around the car. It also had a very low hood and stance.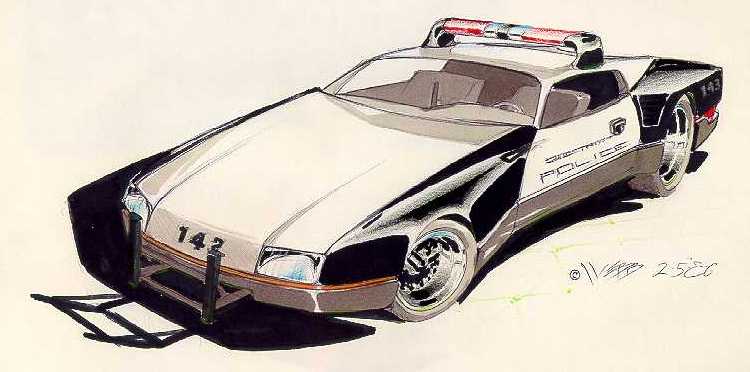 This out of perspective drawing has an importance to the story. It is the first time we actually saw what the cars might finally look like. the next drawing shows a rear view of the car.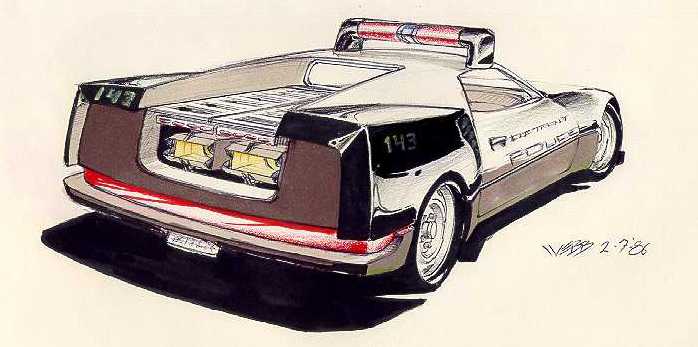 This is close to the final design. You can see the twin rectangle exhaust ports and vented engine trunk covers. These covers were designed to "Blow" when an engine exploded.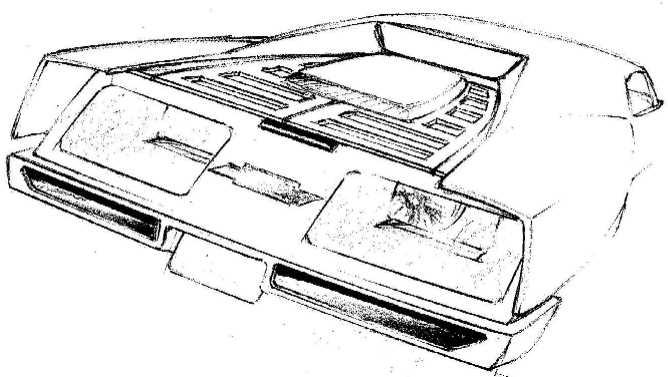 Here is the sketch that finalized the twin turbine exhaust port and tail design. The Chevrolet symbol was nixed at the last minute. Fear of some perceived "legal" problem had a hand in that change. Another change along this line was the name "OCP". It was to be "ICM". A clear jab at "IBM", just to be funny. In fact in the final scene where the evil corporate madman falls to his death he was to hit the ICM sign on his way down, breaking it and forming a "B". Of course cooler heads prevailed and it never made it past my sketch pad. I still have the silly sketch of it.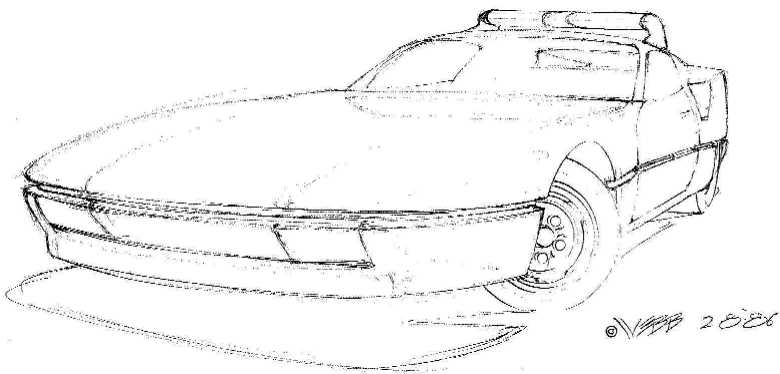 The final car ended up looking a great deal like this one. A large grill was added under the chin as the engine intake. The gag on this idea was that it would suck up leaves and crap. One of the guys that built the cars was Greg Williams. He is an artist with sheet metal. I will try to track him down. He has some photo's of the cars as well. Stay tuned!

This is one of the final idea drawings.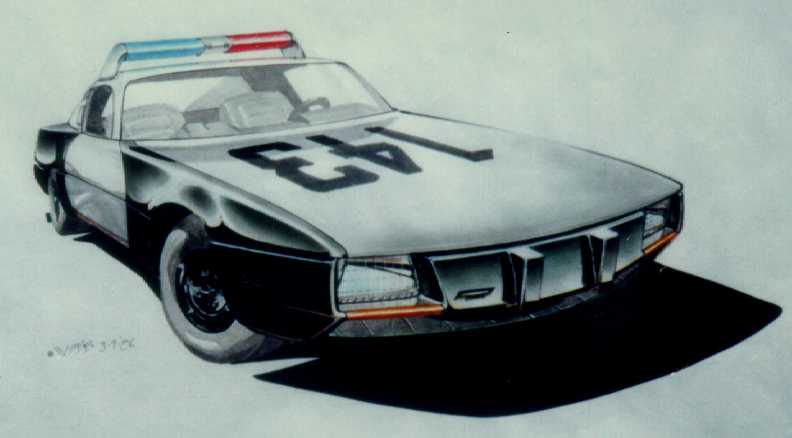 This is it. This is the final drawing and the one used to build the car. There was a scale side view to show where things went but this drawing, and the next one below, were the ones used to build the 6 cars.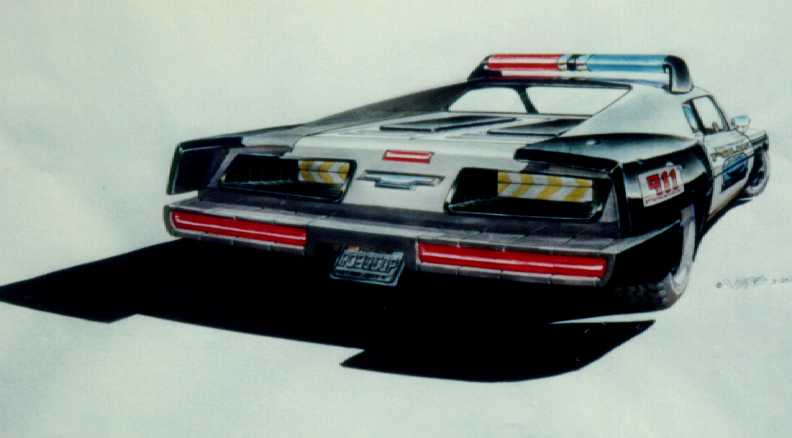 This is the final rear three quarter drawing of the car.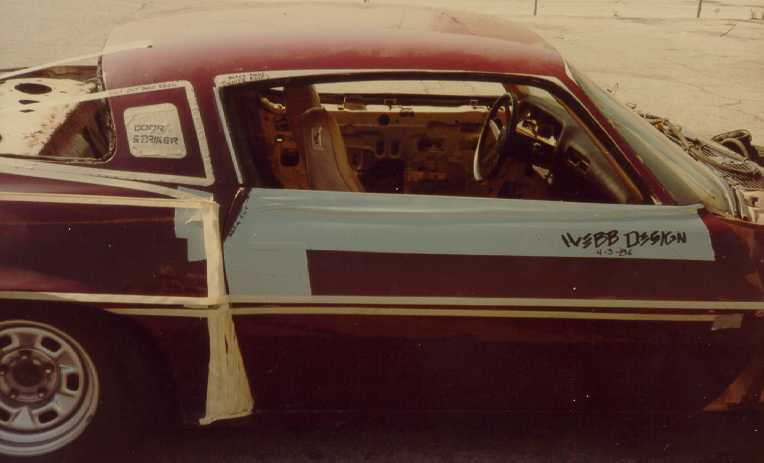 This was a mock up of the lines to be used on the car. The idea was to conceal the Camaro underneath. The "Door Striker" reference was that the door handles were to be shaved off and the large rectangular button was to open the door. That way the Robot would be able to open the darn car door! The white tape around the A and B pillars was to show how black paint should be applied to conceal the openings shape. The camera would not reveal much of this. Welding rod was used to see where the fenders on the rear would jut out. The date was 4-5-86.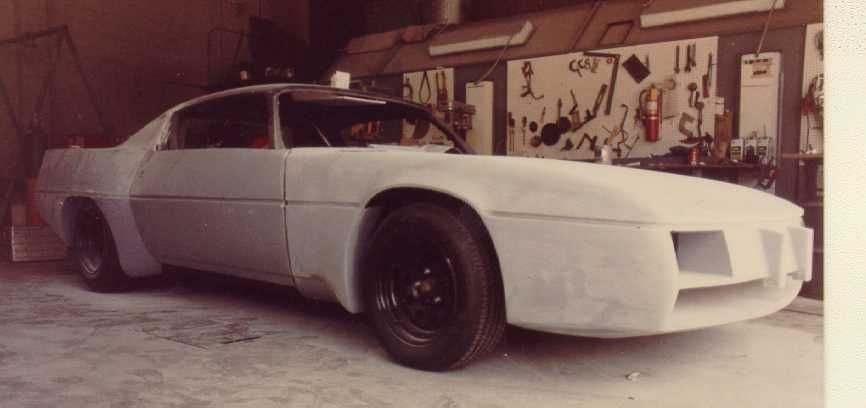 This is one of the 6 cars built. It would eventually be painted black and white as in the drawings above. Many of the details are wrong on the car, but overall it is true to my concept. I was not around when the cars were completed. I got married and moved to Kauai for 6 months! The fate of most of the cars is unknown, but Jay Ohrberg has one of them. It's roof has been cut off and a giant bubble canopy has been added. Don't ask why, because I don't know! This is the Kustom car business. Not much makes sense.

Here are a couple of drawings for the SUX 2000 car. It was intended to be LARGE and UGLY! In this one I chose a 1963 Lincoln Continental as the base car. Jay Ohrberg Show Cars did not build the SUX, and I did NOT design it. I worked on some ideas early on, but in the end I think Gene Winfield and his organization designed and built them.

This ugly Chrysler based design had a new Camaro back glass for the front windshield and a chunky front end. It was supposed to look bad, and it did!!
For fun I liked to draw Robots. Being around ED209 just kind of rubbed off on me. By the way, the ED in ED209 was named after Ed Neumeier. I chose the drawing above, because Ed Neumeier drew the face, wagging tail and "Woof" balloon making my robot into a RoboDog! That's all for now. I will be adding things as I find them or think of them. Thanks for dropping by.
---
RoboCop Car Construction
Any commercial use of stories, photo's or art without written authorization from Robert Webb is prohibited. © Webb 2000
Updated: June 9, 1999
---
This page has several photos of the unseen RoboCop cars that were produced for the first RoboCop Movie. They never made it to the screen, but they were made and Jay Ohrberg Show Cars got a tiny mention in the very last screen credits of the film. I think these cars would have been true "Screen Icons" today had it not been for some contract disputes. It was all a labor of love for me. I hope you enjoy the cars.
If you are interested in seeing photos of the RoboCop Movie Director, Writer and Producer, click here RoboCop Production Crew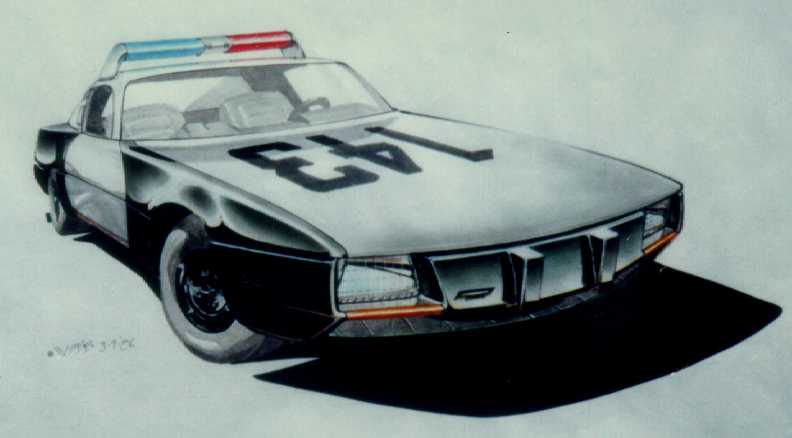 Here is my drawing and design of the RoboCop Police Car.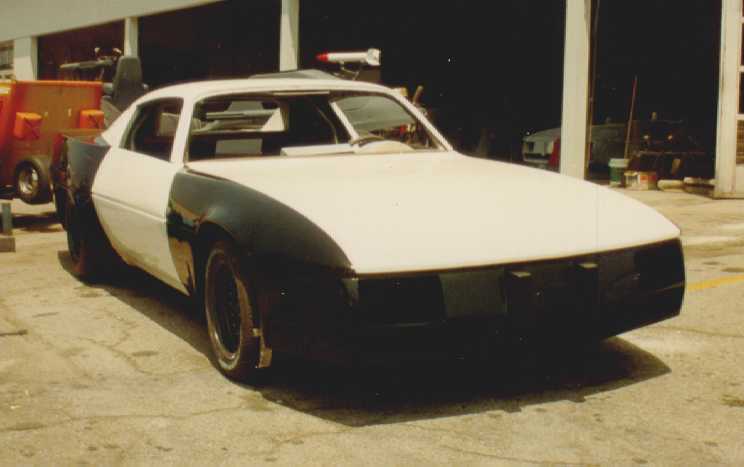 This is how it was carried out by Jay Ohrberg Show Cars. I was not around to supervise small details, so it is not an exact duplicate. However, I think they did a great job, and in some ways better! The car's hood has a rich crown to it that was not in the drawing. It makes the car look more muscular. 3 Cheers for the crew that carried it all off.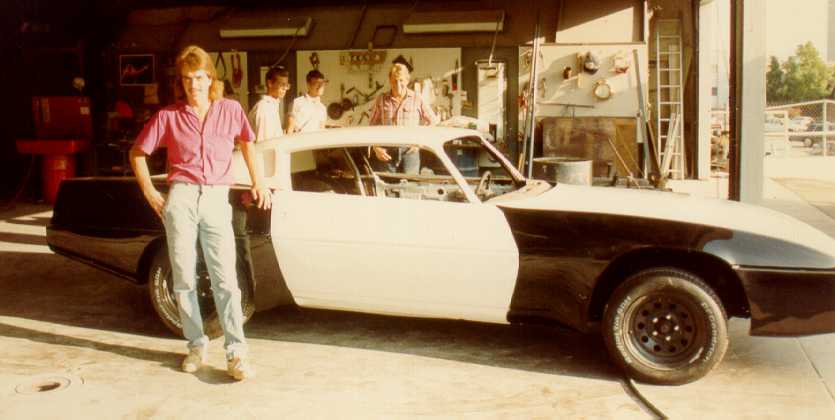 These shots were given to me from a friend. I never got to see the final product. I understand that there might be only one of these cars left. I would love to know what happened to all of them. Jay Ohrberg is standing behind the car on the right smiling. He owns many classic Kustom cars from Television and the Movies. He is in business to design, build and rent them.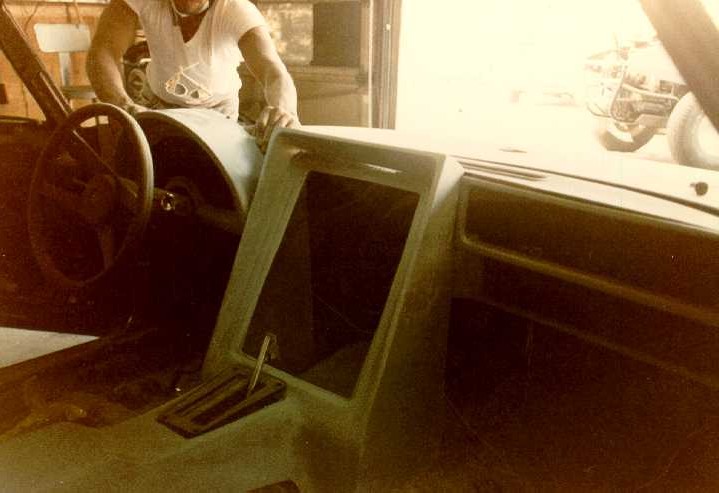 After I left JOSC I continued to design interiors for the cars. Tobor Productions hired me as a freelance designer and I finished the last few drawings needed. This is a version of one of the drawings I made. I guess they liked it enough to build it! This version does not have the smoothness I drew, but I suppose the dashboard is not done yet. I went down to an aircraft gauge company and asked questions about advanced electronic displays. They impressed me and so I invited the movie company to talk with them. The big gaping holes in the dash was designed to hold a great deal of electronics. I wish I had been around for that. I think even this deal went sour though. As I recall, the poor aircraft gauge company got screwed somehow. I wish I could find a record of who they were. I might be able to contact them and get the rest of the story.
This car could shoot almost any color flames 20 feet behind itself! The script called for a twin turbine car. There is masking tape along the edge of the top/rear on the tail of the car. I wish I had photos of the cars decked out with all of the cop decals and lights! Do you think we did a good job of hiding the Camaro underneath?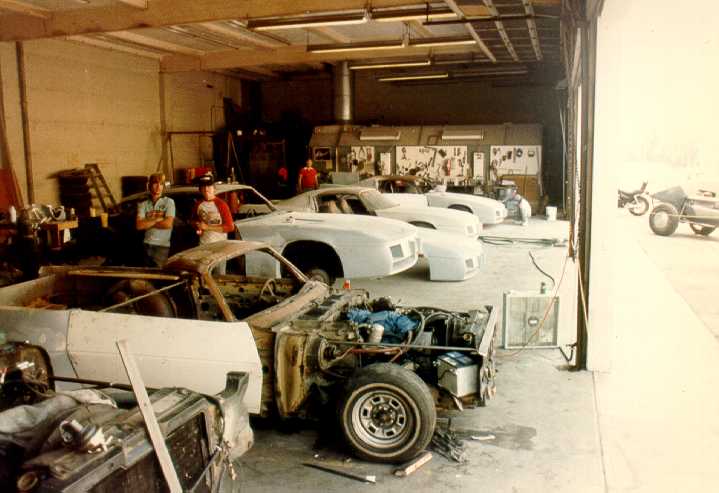 Here is proof positive that Jay Ohrberg Show Cars built 6 of these cars. The convertible in the foreground was a camera car. It was open so that close ups could be made from inside the car at any angle. It would have been really cool to see what Paul Verhoven would have done in this regard! This was my idea. I have seen many film sets and I know the Director likes to have new ways to film a scene. This car would have allowed for some amazing flyover scenes inside the car. Production of these cars must have been frantic.
---