Any commercial use of stories, photo's or art without written authorization from Robert Webb is prohibited. © Webb 2003
Updated:

Jan 30, 2002robert@robertwebb.com By Robert Webb www.robertwebb.com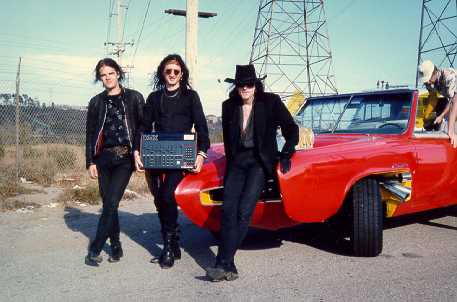 They took many PR photos at this spot. They were kind to let me do the same.
It was an assignment direct from Heaven. The year was 1985 and George Barris, the man responsible for the 1960's "Batman" television series "Batmobile", had asked me to deliver and watch over the "Monkeemobile" at a Rock Video Shoot. This wonderful Dean Jeffries design was wild. The story was that this car was once the Pontiac GTO convertible used on the "I Dream of Jeanne" television show that starred Barbara Eden as Jeanne and Larry Hagman as her Boyfriend/Astronaut. How George got the car in the first place, I do not know. I was just glad that he had!
I had begun drawing television vehicles for George a few months earlier. I believe we were working on a new speedboat for the Television series "Riptide" at the time. I had, as Georges artist, designed parts of it with him and was helping out with it's construction. The Riptide Television show was cancelled before it could be used. Instead, the boat ended up touring the United States at Boat Shows and publicity events. In the mean time this plum assignment with the Monkeemobile would require that I drive it around for a couple of days and hang out on the set of a "Sisters of Mercy" Rock Video. Just sitting, parked in that car in Georges garage, was enough for me. But to be allowed to drive it and control it for a couple of days, well... I was going to live a dream come true.
Before relating this story, maybe I should introduce myself. My name is Robert Webb. I went through this experience about 2 years after I had graduated from Art Center College of Design as a Transportation Design major (Car Designer). At this stage in my life my goal was to design great cars and to be surrounded by them. I doubt if I ever stopped smiling the entire time I worked in this environment. I was in Hog Heaven!
A short while after the Sisters of Mercy Rock Video Shoot George Barris had been contacted by Universal Studios to build a new version of K.I.T.T., the Knight Industries 2000 Firebird for the Television show "Knight Rider" starring David Hasselhoff. The Studio Set and or Prop designers had a couple of drawings of modifications to make to the car. The series was running out of steam and due to be canceled. The Studio felt that if they added novelty features to K.I.T.T. they might be able to get at least another years extension for the show. All they were asking George to do was to build what they had drawn.
However, when George called me in to his office for the meeting and asked me for an appraisal of the ideas, I spoke up. Normally George did most of the Designing. This was a unique opportunity. In my estimation their ideas were weak to say the least. They had Trans Am style fenders sticking out all around the car that popped out from the fenders. That might not have been so bad, but they kept the tires the same size! You could see these enormous wheel wells with skinny, stock tires peeking out from deep within. I think I might have laughed out loud, a bit, when I saw it. Not a good move from someone trying to sell services to a client!
It was an honest reaction and might have broken the deal right there. But, After giving my appraisal of the situation, I then made some suggestions. The Studio and George realized what I was saying was valid. From those suggestions sprang the 1986 Rocket Car and Convertible K.I.T.T.. The stock tires remained, but it sprouted wings, air brakes and multiple air scoops, not to mention the rear rocket packs! I loved that car and was very proud of the design. It was all Cartoon Flash and Fun. At the same time it kept with the theme and "Personality" of K.I.T.T.. The Design of these versions of K.I.T.T. is a true group effort including Me, George Barris, His staff in the Garage and the Universal Studios people.
That's enough about me. Let's get back to the story at hand. I was not around when George negotiated the rental agreement with the Producer and Director of the "Black Planet" Video. However, I surmised the following details. The Director wanted the "Monkeemobile" and searched for it or he floated in to George's Office one day looking for a unique automobile for the video. Seeing it sitting next to the Batmobile would have been enough to lock the deal for any Director. However, I feel he was probably on a direct mission, looking for the Monkeemobile. I know he really liked it.
This is what the car looks like with the Top and pipes in place.
For better angles to shoot from, he asked that the gigantic, white Soft-Top be removed before arrival. It is a solid piece that is padded and shaped to "look" like a fold-down convertible top. He also asked for the fake "Chrome Megaphone", exhaust side pipes to be removed from the wheel wells. On the second shoot the pipes were left on. The Monkeemobile is most famous for its appearance in the opening credits of every "Monkee's" Television show. You can see the garish car rolling down, what I believe is, Hollywood Boulevard. The singers, Mickey, Peter, Mike and Davey are hanging out of the car and the famous "Monkee's" Guitar Logo is emblazoned in white on the red door. I can remember being a teenager and building a scale, plastic model of the car. That sense of wonder stays with me today.
I still feel it is a "Classic" example of 60's Kustom Styling. If I fell in to a bucket of cash and could own any wild car in the world, I would choose to own and drive the Batmobile every day, but the Monkeemobile might be second on that list. By the way, the term "Kustom" with a "K" was either created by or for George Barris. He is the "King of the Kustomizers!"
A bit of an explanation is in order at this time. The footage shot on this video would ultimately be ruined in some sort of film laboratory accident. The Director was adding a chemical to the negatives to darken all of the scenes. In his vision the, destroyed, world SOM would drive through needed to be dark and ominous like the song. His disaster was my gain. Lucky me! The Film Company ordered another shoot! This is how I got to do all of this twice!
The second shoot was filmed a couple of weeks later on a weekend. I remember, because the last day of shooting was a Sunday. I tell you this because I wrote no notes or journal. All of it has been pieced together from memory, looking at photos and talking with friends. Therefore, this account is only as accurate as my feeble mind can conjure up. We did almost everything twice in the same locations and that has confused my recollection's a bit. I feel I have done a credible job of re-creating those days though. If anyone has anymore information about this event, please feel free to e-mail me with additions, corrections or criticism. You can contact me via E-Mail: robert@robertwebb.com. My memories are heavy on the Monkeemobile and light on "The boys" in the group. After all, my interests at the time were focused on the shape of the sheet metal and not the music.
Well, the day finally came. I asked for vacation time from my day job. The first day of shooting fell on a week day. I worked in the Bell+Howell Phillipsburg division as a field technician repairing Computer Controlled Mail Inserting equipment. The job came with a company car, it paid well enough, and more importantly, on a regular basis! I was just getting started in the Hollywood "Kustom Kar" design business and needed scratch to pay for rent and food. Besides, I liked working with computers.
I arrived at George Barris's Garage at Dusk just as they had finished washing the car. They had just replaced the battery and the funky red hood, or bonnet, with the "hole" in it. It gleamed as it was being lowered in place over the engine bay. There it sat. Cinematographers call Dusk, "The Magic Hour" because of the great contrast and lighting that happens at that time. Many film crews try to shoot their most dramatic footage at that time. The GTO Monkeemobile looked fabulous! All Fire Engine Red with gleaming chrome and an enormous fake Supercharger, or "Blower", sticking high up out of the hood. Never mind that under it sat a normal, single, 4 barrel carb. It did not matter. The car is so light, and the stock 409 so powerful, you can light the rear tires and smoke them to the rims at will.
George handed me the keys, and with grim determination, warned me about driving the car anywhere but to and from the shoot. "You control the car", "Don't let them do anything foolish with it. You are in charge and drive it home if they don't listen to you." With those words still ringing in my ears I got behind the wheel of the gleaming machine and lit the fire. It came to life with a loud "WOOOOOF" from the Carb. There was no air cleaner over it, so you could hear every vacuum, sucking sound it made. "Doo Lacka, Doo Lacka, Doo Lacka", the "Cammy" motor turned over and over with its deep sounding rumble.
The smell of "Slipstream" automobile wax and Armor-All, all over the interior, wafted to my nostrils blocking out the gasoline and exhaust smell rising from under the car. I dropped the automatic into drive and depressed the gas pedal a bit. "Screeeee", the tires broke loose spinning on the wet pavement. George nearly bored a hole in me with his eyes. I backed off the throttle and idled out to the busy street smiling sheepishly. The evening prior I had purchased a tweed or hound's-tooth, gray, snap-brim, English driving cap. It felt right to be wearing it. My Bright yellow "Barris Kustoms" T-shirt told the world that I was somebody! Sitting behind the wheel of the Monkeemobile, I was!
I don't know if you can ever capture all of the feeling and emotion of a moment like that. But, I was getting paid to drive one of the wildest cars in the world as a single, healthy young man! Life just does not get much better than that. I drove surface streets to a freeway onramp. In the 2 blocks it took to get there I think there were nearly 2 accidents with people staring at the car.
The freeway was not much different. Whizzing along at 55 miles per hour in traffic I felt the eyes of all of the drivers around me gawking. Blowing down the 210 freeway through Pasadena I was tempted to get off and Cruise Colorado Boulevard. Colorado is the route of the annual Televised New Years "Rose Parade".
Instead I heeded George's warning and drove directly to my House Trailer in South EL Monte via Rosemead Boulevard. My Singlewide Trailer had a long lean-to carport on the west side. I backed the red car in while the motor Idled loudly. The throaty sound echoed off of the aluminum trailer. My neighbors came out to take a look. Everyone had a unique reaction. I called some of my friends and they came down to take a look. We drove around the block 1 time and I parked it, not wanting to endanger it any more than I had too.
Sleep was an elusive thing that night. Waking up before any of my 2 alarms went off I dressed in my Yellow "Barris Kustom" T-shirt, Blue Jeans and snap-brim cap. Stepping out to the car I was once again affected physically. What a sight! The thin key slipped into the ignition easily. She fired the first time. It loped out of the carport. Loose asphalt rocks crackled under the new, wide rubber. Rolling down the lane through the rows of Mobile Homes it idled cleanly while warming up. It's sound echoing loud then soft then loud as I passed each trailer.
Stopping at my Bank ATM machine, still in dark, I got 20 bucks and a surreal photo of the car parked next to it. Traffic in Los Angeles has always been bad. This morning was no exception. Fighting all the way I finally arrived at the City Park around 5:45 am. The Rental Truck with all of the Camera equipment simultaneously pulls up next to me. The Park was within sight of the Vincent Thomas Bridge. It arches over the north gap between Terminal Island and the Los Angeles Harbor. Terminal Island is small. It is a couple of miles in diameter and nearly all paved with asphalt. Recyclable heaps of steel scrap, ships disgorging Japanese import cars and container ships line the edge of it. The other side of the Harbor has many oil fields and storage tanks. Both of these areas are where the filming would take place.
I had gassed the car up and was now wiping it down waiting for things to get started. The crew slowly pulled out all of the speed rail and gear for filming. The camera truck arrived with a bit of fanfare. A meeting of friends no doubt. The Director eventually worked his way over to me. He was young, nearly my age. His demeanor was serious, and he exuded confidence. He told me his vision of the piece trying to sell me on certain ideas. He told me that this British Rock Band was something special and that he wanted their American Debut to be remembered. In my mind I was convinced of that. If nothing else, he had the right car for the job!
"They are the Sisters of Mercy, ever heard of them?" He asked. I had to admit that I hadn't. I was a car guy, a gear head. I knew very little about Rock and Roll groups. I just knew what I liked on the radio. I never knew group names, other than the big ones, like Crosby Stills Nash and Young, Led Zeppelin, Rolling Stones, Van Halen, the Beach Boys and the God like "Beatles". He tried to get my enthusiasm up for them and the project, but I had not heard them so I had to feign excitement. His was real, and by the end of the first day of shooting so was mine. I liked the dark tone of "Black Planet" and listened to it all day long, over and over. It grew on me, and my respect for "the boys" was genuine.
Then he asked to go for a drive in the car. The story was plausible. He said he wanted to scope out the locations he would be shooting. In reality I think he was just jazzed about the car. I couldn't blame him. So was I! I may have relented and let him drive it a bit once we were out of view of the cast and crew.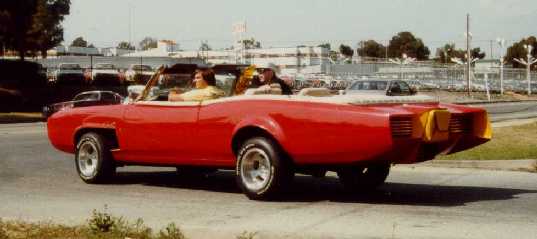 That's me behind the wheel of the "Monkeemobile". (1985)
One of George's Side-Kicks, Jay Ohrberg, dropped by that morning for a while. He took a couple of photos of me. He used my camera and caught that scene as I drove away from the set with the Director sitting next to me. When we returned, the Sisters of Mercy Rock Group had already landed. They were in the newly arrived Motor Home getting in their outfits and make up for the day. Their thick, heavy, suede like, black coats and pants were stained a bit from cigarette ash. No one seemed awake. They all smiled with a low energy smirk. They had obviously just rolled out of bed. I imagined they must have had heavy Jet-Lag as well. Hot Coffee was distributed to Cast and Crew. Eventually, as the sun broke through the low overcast, they were now, visibly, wide-awake.
In those early hours of the first day, "the boys" were focused on the job at hand and one another. They were in groups of 2 and 3 talking in low tones, sitting around, waiting for the first instructions. The makeup person was hovering around them as well as various people in the entourage. I was just another face milling through their world at the time. No more important than the guy dragging heavy rubberized cable about. Lights were being set up on tripods and tested. Speed rail was being formed in to camera platforms on the camera truck and coffee was being consumed in mass quantities. The air was still chilly and moist. We were close to water and the grass in the park was covered in dew. With my hands in my pockets to stave off the chill, I waited with everyone else while the director got things sorted out and the game plan set in to motion.
Then it all sort of gelled. The sun came out warming things a bit. I got the car up on a trailer behind the camera truck. Everything was cinched down and secured, speed rail was placed in strategic locations with the bright lights turned on. The boys were put in position, the music was turned on, people fell silent, and then we heard the word "ACTION". "Black Planet" was a song I had never heard before. I was not sure if I liked it the first time it was played, because they kept starting and stopping it before I could get a handle on it. But then it grew on me. It was a dark, brooding song with a heavy Base rhythm, my kind of music.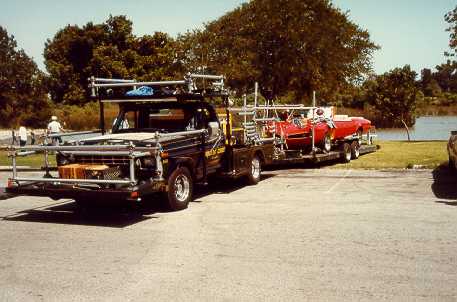 This is the Camera truck, Trailer and Monkee Mobile.
They all packed up and the "freight train" drove away. The camera truck bumped out on to the street, the Monkeemobile on the trailer, following, bounced in the same place. The boys were in the car and the film crew hung on to the truck like monkeys. I was left standing in the parking lot to ponder life's mysteries and the nearest location of a good pastry. I had no car. I would have to find a convenience store nearby. As luck would have it I was invited in to the boy's motor home where I located the aforementioned pastry and sat down. Some of the crew had been left behind, about 4 as I recall, that meant that about 400 people were on the camera truck. We chatted idly about who these characters were. This nice young lady seemed to know a great deal about them. She acted as though these guys were the "IT" boys, the next wave.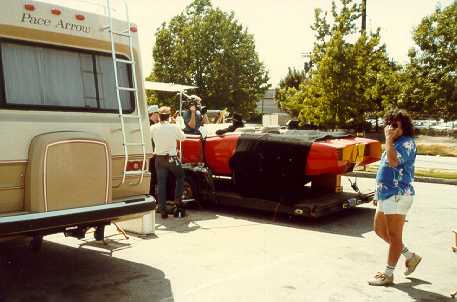 The motor home is where we all got to take a break.
I was not in a position to hazard an opinion. I had only heard Black Planet and seen the guys in their black garb once. I needed more data. As we spoke the young lady dropped an interesting bit of news. It interested me and would ultimately consume the better part of a year of my life in the future. Her Boyfriend or Fiancé was a producer and was working on a new motion picture. It was going to be a Science Fiction film, but they were having a hard time finding someone to design the sets, costumes, cars and props. I could hardly contain myself, but somehow I smoothed out my response. I told her that I could do just that. I was a graduate from Art Center in Pasadena and I did that kind of work. I gave her one of my cards. She gave me his contact information. It turns out that her Boyfriend was the Producer for Tobor Productions and the Feature film they were working on was Orion Pictures Blockbuster "RoboCop"! I asked Jay Ohrberg Show Cars to partner with me on this proposal. He could build the cars and I could design them. Eventually, we won the competition and got the contract, spending almost an entire year on it. But that is another story.
People have asked me, "How the video shoot for Black Planet went....", Well, it was fun and boring at the same time. When they were shooting the scenes, it was fun to try and see what the Director was trying to put together. He had a vision, and just called for certain shots. Most of the rest of the time though you would have found us all drinking Cokes and play cards. YAWN!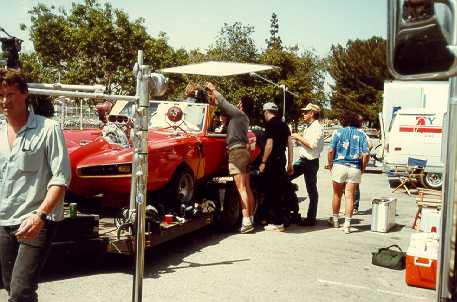 This is how it looked on the Trailer.
On the first shoot the Director wanted Andrew to drive the car throughout the entire production. I agreed to this. But, I started talking to Andy and he seemed a bit nervous. It turns out that he had never really driven a car before! At this point I decided to have a serious talk with Mr. Director. I was responsible for this very rare car, and I would like to remain employed with Mr. Barris. So, it was agreed after some discussion to give Andy a driving lesson.
I was Andrew's first driving Instructor! Oh, Gawd. The first turn he made nearly took out the front right quarter panel on the car. I nearly died. We tried a bit more, but I knew we would be driving in heavy traffic and there would be times that Andy would not have the skills needed to keep the sheet metal straight and out of danger. He was just not ready. There was no time to properly teach him the basics. Besides he was learning under an enormous pressure! The entire cast and crew were standing around while we went on a driving lesson! He really liked the Monkeemobile. He was a typical "new" driver, very dangerous, but wanting to do better. He struggled and apologized for not knowing how. He explained that he had always been poor and did not have a car. No one in the band had a car.
I totally understood, but I still told the Director that I could not allow Andrew to drive, under any circumstance. I can't recall if the Director asked me if I would be willing to drive or I proposed the idea. The end result was that I drove the car in all of the real driving scenes in the video, or so I thought. It turns out that at some point I had been hoodwinked.
There is one scene in the video I was surprised to see. December 9, 1997 is the first time I had seen the video in total. I had NEVER seen the complete video before then. I saw snippets of it when visiting friends that had Cable Television and MTV back in 1985.
Anyway, in one scene it clearly shows Andrew driving up to the camera truck while it is rolling along on Pacific Coast Highway. That was unauthorized by me. If I had known they took the car off the trailer without me around I would have hit the roof! Not to mention what would have happened if George Barris had found out! Oh, well. No harm, no foul, or was there?
The crew always left with the car tied down on the trailer. They must have unloaded it out of my sight and filmed Andy driving down Pacific Coast Highway on his own! The trailer always showed up with the car still strapped down. However, I do recall one incident that, later on, got George VERY mad. The car showed up with a dent in the front right fender lip! They said a light had fallen on the car! I now think I know what happened!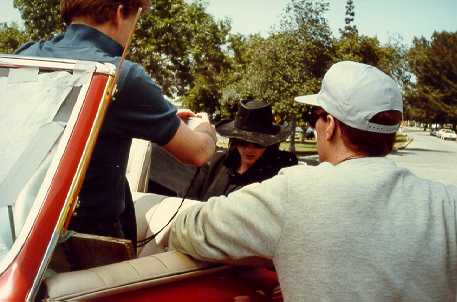 Time for a close up.
The Video was shot without a permit for at least one of the locations. I know, because at one location under the big Bridge I was asked, "Do you see any cops?". If you want to spot me driving in the video, it is pretty obvious if you look closely. This is perhaps the funniest part of all. I stand 6 feet 3 inches tall. Andrew is about a head shorter than I am. My shoulders are pretty wide and his are narrow. Look at the driver's seat in each of the scenes. From the front you can see the edge of the white seats on either side of Andrew. The shots from the rear show my shoulders reaching past the edge of the seat on both sides. In one scene you can see how short the sleeve is on my right arm. A big white wrist shows up. I think I see my knee splayed out to the right as well.
I slouched in the drivers seat with my legs spread out under the dash. I wore a women's long hair, Black, wig, Andy's jacket and hat. I nearly split his jacket in the back and his hat felt like one of those little organ grinder "Monkey Hats" on my head. The entire group was friendly as hell and took it all in good spirits.
There is a scene in the video of the car doing an enormous burnout. Watching the video, it is just how I remember it. You will see scads of white smoke billowing off of the left rear tire. I poured some ATF on the tire to allow it to spin and smoke. ATF in this case stands for Anti-Traction Fluid, on the can they call it Automatic Transmission Fluid. It is an old "High School trick" to impress young pubescent girls at the Hamburger stand. It is "Smoke in a can"! Once again, I drove the car in the scene against strict orders from George. He said "No burnout's". Well, what he did not know did not hurt him and the Director practically pleaded with me to allow it. I relented and performed the infamous "Burnout Scene". I had babied the car up to and after that point. But the Director REALLY wanted the burnout and would not leave me alone on this point.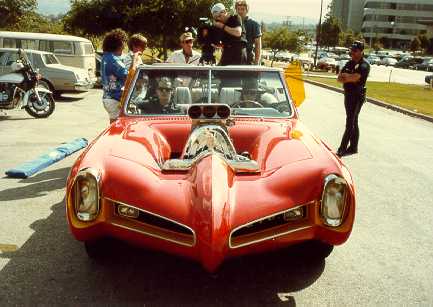 Here they are during the filming of Black Planet.
The Video's editing and continuity is sophomoric but fun. You can see cuts where cars are following behind the trailer. The Blue, Blue sky with soft white clouds is almost idyllic and pretty. The weather was just too nice a backdrop for the serious down and dirty "Black Planet" image. If you look close you can see little "White Castle" "prop" hamburger boxes pulled from a bag. White Castle Hamburger Stands are normally found in the eastern United States. I have never seen any in California. The little square boxes were specially imported for this video. I saved one of them and have it at home in a drawer. It was some kind of inside joke the Director was playing. All in all I would have to give the Video a grade of "C" or a 2 on a scale of 4, but you also have to remember that this was very early on in the Rock Video game. For it's day, the early 1980's, it was a cool video!
I drove for both filming schedules. In total I was with them for at least 3 or 4 days. Each day of shooting started very early. I was to arrive on the set before sunup. Because of the schedule I got to drive the Monkeemobile home each night prior. I have a couple of shots of it parked in the carport of my old trailer home very late at night. The first shoot has us pretty much stuck down in the Los Angeles Harbor area, but the second shoot afforded more interesting locales up north and inland. We ended up near Los Angeles International Airport and finally right Downtown Los Angeles in the center of the Financial district up on the hill. I think I may have given them the idea for at least one of the locations to shoot. None of that made it to the final cut however. It is true that they shoot a great deal of film and only use a bit of it. The film editors have a much easier time putting it all together that way. Thankfully, I always got the car home in one piece and without any tickets. Luck was a "lady" the whole time.
On the second shoot we ate breakfast, lunch and dinner together. As I recall, we talked a great deal. Mostly idle chatter about traveling and questions about what California was really like. They were in a strange country with out friends and a new face to talk to was welcome. I had nothing but time on my hands. I delivered the car, drove it a bit for them, but mostly watched it from the camera truck or off to the side. So, I got to spend all of the time with them. Andy was the most talkative. He seemed to enjoy my dry sense of humor.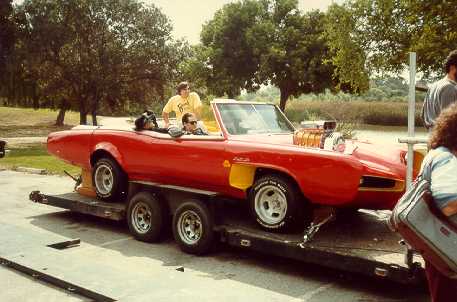 That's me with the boys. Doktor Avalanche is in the back seat.
I do remember that Andy and the other two guys in the band were friendly and got along well. A usual verbal gag was to bring "Doktor Avalanche", the electronic drum machine, in to the conversation once in a while. It was like the 4th member of the band. I liked them all. I think they enjoyed my company as well. I was the only entertainment on the set. All of the "Professional" crew people could have cared less as to who these guys were or what they might be. I was just star struck enough to be very interested in everything that was going on. In short I had fun. (Plus I got paid!)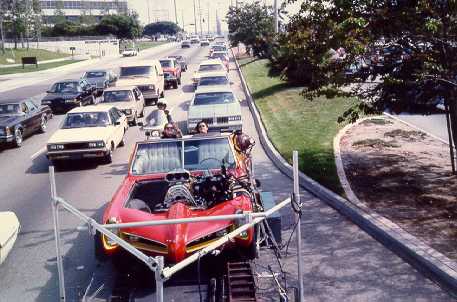 Moving from one location to the next required knowledge of the best spots to rest. Here you can see Craig and Wayne mugging for my camera. You can also see the Motorcycle Cop I raced. Wheeeee....
One incident deserves mentioning. In spite of the permit problem and looking out for "Cop's", we always had an off-duty, Uniformed, Motorcycle Police officer escorting this caravan of goofballs. I guess it was not his job to check for filming permits! This, very proper, man wore a blue uniform, Police bike helmet and his well waxed and trimmed mustache. I had talked with him a bit as well when we were just sitting around. I got to know that he was a bit of a comedian. As we traveled from one location to another, it just so happened that on a, clear, wide street near the beach he pulled up next to us, on the left, at a stop light.
The boys were in the car with me and I told them, under my breath, to "Watch this". I leaned out the car with a smile on my face and said loudly to the Cop, in a half-hearted joking manner, "Wanna' Race?". To my shock and delight, he said "Sure" and proceeded to rev his bike! The air was electric. I did not look, but the boys must have been shocked, looking at each other, not believing what was going on. I was just as surprised but concentrated on the job at hand. I reciprocated, power braking and building rev's. Then the light changed. I smoked the tires, a bit, launching hard and he shot forward as well. We went a short distance and slowed to legal limits right away, but the effect was total! We all laughed. The Cop sped off to catch up with the crew and, I am sure, to hide from any other officers that might have seen it. I looked around at all the guys grinning faces and knew they thought that was GREAT!
Andrew Eldritch was a nice guy. A very pale, almost clear, but nice guy. He really needed some sun. His lifestyle must have kept him out only at night. He is also an average sized man and thin. I remember that he chain smoked and his black outfit was made of a very stiff, black suede like or rough leather material stitched together with some very thick thread. His sunglasses almost never left his face. However, he would occasionally remove them. It was rare that he ever made direct eye contact. He mostly looked down or away. There was always a trademark whiff of smoke blown off to one side and a flick of the flaming butt on to the ground. His black, sharp toed, boots would grind it in to the gravely pavement. By the end of the second shoot we had spent a fair amount of time together. I was accepted as a kind of token "Roadie".
He was very subdued during the times they were actually filming. I think he felt the weight of the situation he was in. But once the camera stopped rolling he would relax a bit. Finally when it was all over, he seemed to come alive. It was a side of him I had not seen. He was always making jokes and having fun. But now that the work was done, he was charged-up and wanted to get out. He wanted to visit some night spots, maybe travel around a bit.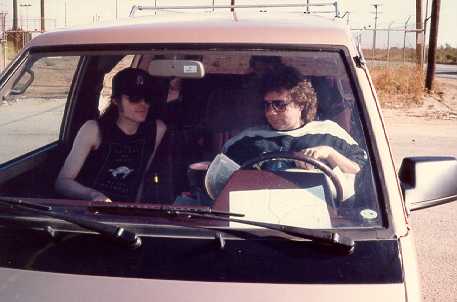 Taking it easy in the van between takes listening to the radio.
I never saw drugs while with the boys, I never heard talk of drugs around Andrew or the others, but early on I was looking for signs. After all, this was a hot Rock Band! But after the first few hours with them I saw that they were all cordial and "normal". Just some young guys with a bit of luck and a lot of talent in a really interesting situation.
Andrew was friendly, funny and really in to music. He kept asking me questions about American Rock Groups. But unfortunately he was asking the wrong guy. I rarely went out "Clubbing" and I knew little about the latest Bands or even music. If he had asked me about cars and women, well, that would have been a horse of a different color. I would have been able to tell him a great deal about cars.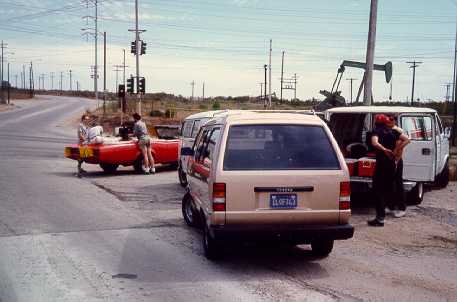 On scene. We just kind of took over traffic intersections.
The last night of shooting on the second go round ended up kind of sad and disappointing. It was full of promise and I anticipated some serious fun, but in the end nothing panned out. What happened was that I almost got to spend a couple of more days with Andrew!
I drove them back to their Hotel near Santa Monica on the last night and Andrew and I were discussing possibilities. I was not a night club type of person and was a bit clueless as to the Sunset Strip clubs. I lived in the San Gabriel Valley in South El Monte a, small, Latin suburban city. If it was Saturday night I knew of many places I could have taken him. But it was Sunday. Not a lot of prospects there. Even Hollywood rolls up the sidewalks on Sunday night. We were all exhausted from the day's shoot. There was not much happening in LA, but here was Andrew, all pumped up. He had just finished his first Video shoot and wanted to go out! I was up for it as well. I was listening to him when he asked if anything was happening near by. I had to admit that it was Sunday and NOTHING was happening. He was disappointed. I did offer an alternative though. I said, "would you like to go to Mexico?"
Tijuana is a popular border town just south of San Diego California. It is a tourist trap and party town. Even on a Sunday night there would be excitement of some kind, sleazy or otherwise. At the very least, some good food could be had and an adventure engaged! Plus the drive to Mexico would be along the Coast of California right past San Diego, another big Vacation town. The weather was cold, but welcoming. The skies clear. The only issue it seems was the passport or visa situation.
Well, he seemed to like the idea and went in to his hotel to talk about it with his buddies. Maybe they told him to ditch the car guy, they had Visa problems or they were all just too tired. He never came out, and I did not know where his room was. I waited about 45 minutes outside on the street. I had work in the morning and if this was not going to happen I could not wait any longer. I would have blown off work just to party with him. But, I was also very tired, and I figured he might have laid down for just a bit and dozed off. Like I said, we were all exhausted. I left one of my cards with one of his business people in the lobby. I then drove the Monkeemobile to Georges Garage, swapped cars, and drove my company car home. I never saw them again. Andrew never called, so I figured his PR people had him on a tight schedule the rest of his time in California or I really was just a roadie to forget. The day just sort of ended.
Several day's following the shoot I felt that he might contact me, but it never happened. We had gone our separate ways. After all, I was just a car flunky. Why would he contact me again? I would like to talk with him again one day. It would be interesting to see what life has been like for him. Older and wiser I imagine. That's it. I had some really wonderful memories, and am grateful for this small episode in my life.
To wrap this all up I would like to relay one last bit of information. At the second shoot Andrew Eldritch could drive! He had taken extensive lessons, by the look of it, and drove us all around in the small van they were using. So, he quickly rose to the challenge and conquered it. Much like he has with the Music that he loves.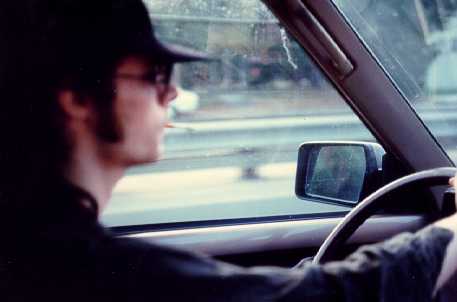 By the time of the second shoot Andrew could drive. Check it out!
I recently gave a full set of photo's from that day to a great guy named Clif Duhn. He helped me get a copy of the "Black Planet" video I had been searching for. That is what started this whole web page business in the first place. He was fortunate enough to get that set of photo's to Andrew. Here is part of his letter, I think you will like it:
Clif writes, "Although Andrew has the photos, I actually did not meet him in person. I went to the concert with the photos with the intention of just showing them to him. After the concert, however, I met the lead guitarist and showed the photos to him, and he thought they were great (though he was not in the band at the time the video was done, of course) and that Andrew should definitely see them. Andrew was not around though and I couldn't wait around much longer, so I decided to give the photos to the guitarist and made him promise to give them to Andrew for me. Eventually, I plan on contacting Andy and finding out what he thinks of them.
I DID, however get some feedback from Wayne Hussey, the original guitarist whom you did meet. He's the one holding Dr. Avalanche in your photos. I sent him an e-mail with your URL and told him about the photos. He replied that he already had a bunch of photos from that day (from someone else, or possibly you?), but he did have a funny story about that day. You'll notice that he wore a bandanna tied around his forehead all day during the shoot. When he got back to his hotel room and took it off, he had a big white band across his head and had to wear a hat for two weeks to cover it!"
I replaced the set of photo's Clif gave to Andrew, but I have not heard if they ever got back in contact.
I hope, some day, he and/or the others in the Band contact me. I live in Palm Desert California now, near Palm Springs and could arrange quite a party. How about it Andrew, Craig, Wayne and Dr. Avalanche?
After all, I owe them all a night on the town!
---------------------------------------------------
I want to thank all of the people that have written to me and helped me scratch this information together. Clif Duhn and Ian Grimstead are two of the nicest guys I have met on the Internet. Both of them gave of their time and talent to get images and information to me. I also have gotten letters from people asking questions. I would reply and answer them, jogging my memories of the event. Some of the text above comes from those letters.
Dr. Ian Grimstead (UK) ian@XXXX.com